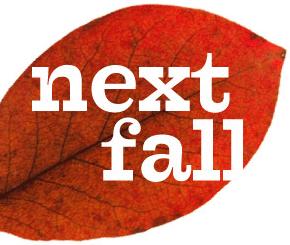 Come see Next Fall February 8 through the 11 7pm, matinee February 12 at 3
Tickets are $5 cash and are sold only at the door.  ALL proceeds will go the 'It Gets Better' Foundation. ♥ Hope to see you there!!!!!
'Next Fall' is a Tony Nominated play by Geoffrey Nauffts. The play revolves around the five-year relationship between Luke- a Christian- and  and  Adam- an atheist- and how they make it work despite their differences. However, when an accident changes everything, Adam must turn to Luke's family for support and answers. The play is both political and personal, funny, sad and all encompassing. It promotes diversity while still representing moral values.
Directed by Daniel Ellis, assistant directed by Melissa Panzarello. Stage managed by Cat Tignor and stars Longwood's very own students. Please come out and support us.