For this project I decided to do research on a place in my hometown Kilmarnock VA. Kilmarnock is part of a very small community and with a lot of people that get their high school diploma. I thought it would be interesting to see the highest level of education within the population in the year 2000. The data that I found doesn't surprise me when it comes to high school graduates (31%)  but I did find it interesting how many people didn't graduate from high school (29%).
website information was found on: https://factfinder.census.gov/faces/tableservices/jsf/pages/productview.xhtml?src=CF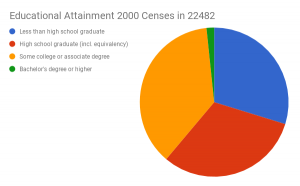 I then wanted to compare it to todays censes and see if those numbers had decreased or increased. I found that in the year 2016 the numbers have decreased in a sense of high school diplomas but education overall is on an uprise. I say this because after conducting my research and comparing both of the information given in 2000 the highest level of education was a bachelors degree verses now the highest level that is being shown on the chart is a graduate or professional degree from a college. Overall the information found was interesting and I hope to continue to see the educational attainment level go beyond high school.
website information was found on: https://factfinder.census.gov/faces/tableservices/jsf/pages/productview.xhtml?src=CF