Before recapping today's events, I wanted to remind everyone about the Opening Reception for Youth Art Month 2018 at the LCVA this weekend. The reception will be held this Sunday, March 11 from 2-4pm at the gallery. All of our students created pieces that will be on display. The exhibit will be open from March 11-April 8. I encourage you to check it out!
It was a busy Friday for us today as we continued work on our study. On our walk this morning, I encouraged the children to keep their eyes open to see if they could spot any mailboxes. Any mailboxes that the children found, I snapped a picture of. We were able to find many different mailboxes throughout town- none of which looked like a typical, free-standing residential mailbox! We saw large post office drop-off boxes, small wall-mounted mailboxes, and many door mail slots. We talked a bit about the differences that we noticed in their designs, however, we will spend more time on this next week after I print the pictures out. These pictures will serve as inspiration for eventually creating a mail receptacle to solve our dilemma about where to deliver Mrs. Jackson's mail!
While on our walk downtown, we happened to run into a staff member from the Visitor's Center, who welcomed us to come inside and warm up! Inside, we found all kinds of maps and brochures about different towns in Virginia. We also got to look at a display on the history of the High Bridge trail. The staff even gave us a special treat- Virginia Is For Lovers stickers and whistle keychains! Afterwards, I told the children, you never know who you might run into out in the neighborhood! It was quite the unexpected, but pleasant surprise!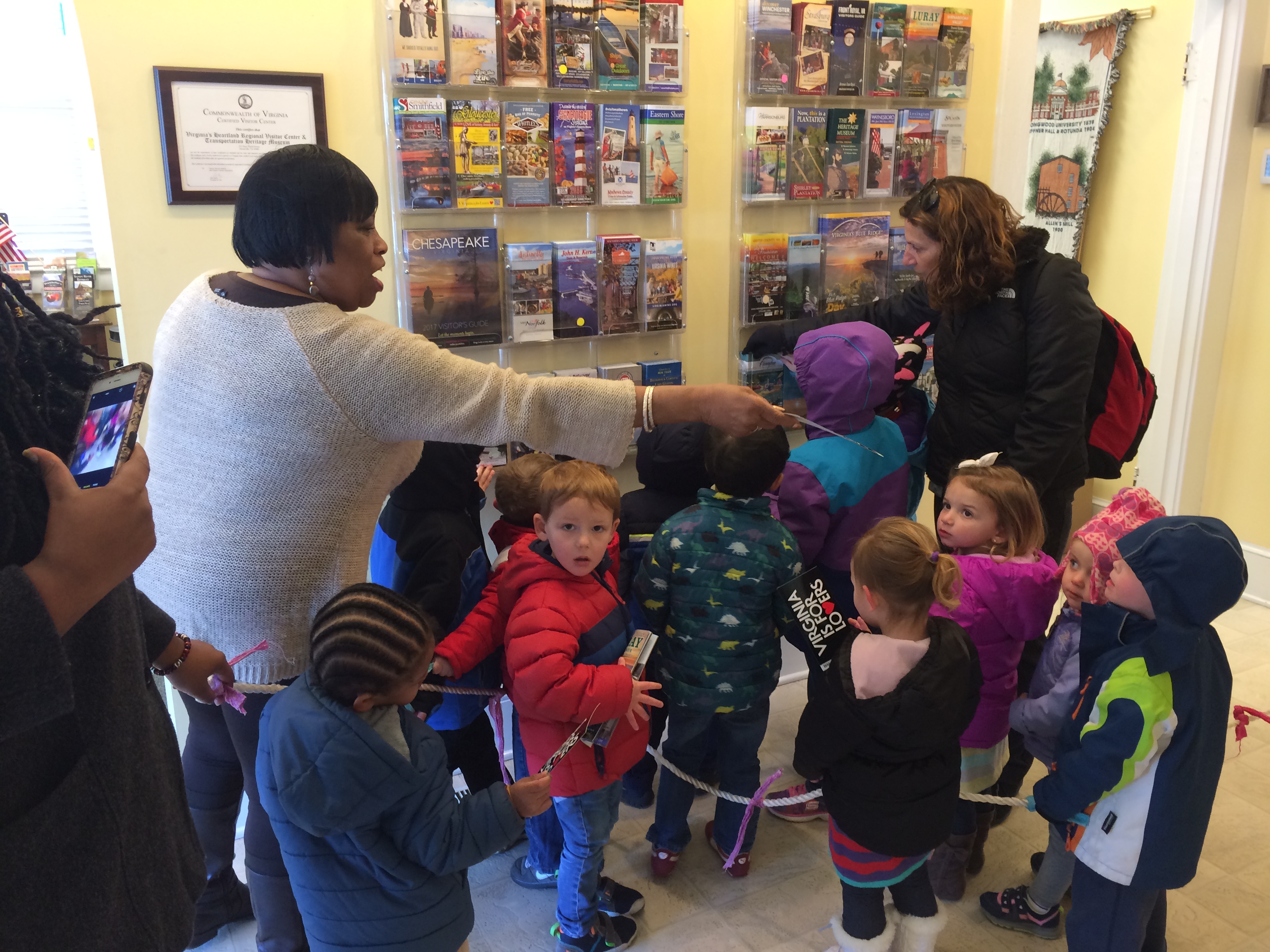 During our Morning Meeting, Matthew came up with and described a plan to "use warm water to wash in the sink." Yesterday, the maintenance staff turned our water temperate up slightly so that our sinks could run warm water. What I had thought was a subtle change was enough for the children to take notice! Matthew said that the warm water felt "good" on his hands yesterday when washing his paint brush in the sink. He wanted to do this again, especially after a chilly morning walk! Several other friends agreed and decided that they also wanted to "wash in the warm water."
Per my suggestion, the children decided to fill the water table up with warm water so that more friends could be accommodated versus the limited space available at the sink. However, they encountered a problem- how do we fill up the water table? At first, Matthew tried using a small mason jar but quickly discovered that he needed "something bigger."
Matthew, Elliana, and Aliyah went to the Art Studio to get big mixing bowls. When I asked them why they chose them, they responded that they would be able to fill the water table faster. They took turns putting water in the mixing bowls and transferring it to the water table. I was struck by their ability to fill the bowl to a manageable level that they could then transport it without spilling. They did not simply fill it to the brim and then realize after spilling that it was too heavy! This understanding of capacity without trial and error was really exceptional.
We added soap to the mixture with the intent of washing some of our toys. Lane and Elliana decided that they needed paintbrushes to scrub the toys with, so we added paintbrushes to the mix as well. Together, the children carefully began washing dinosaurs, which were in need of a bath.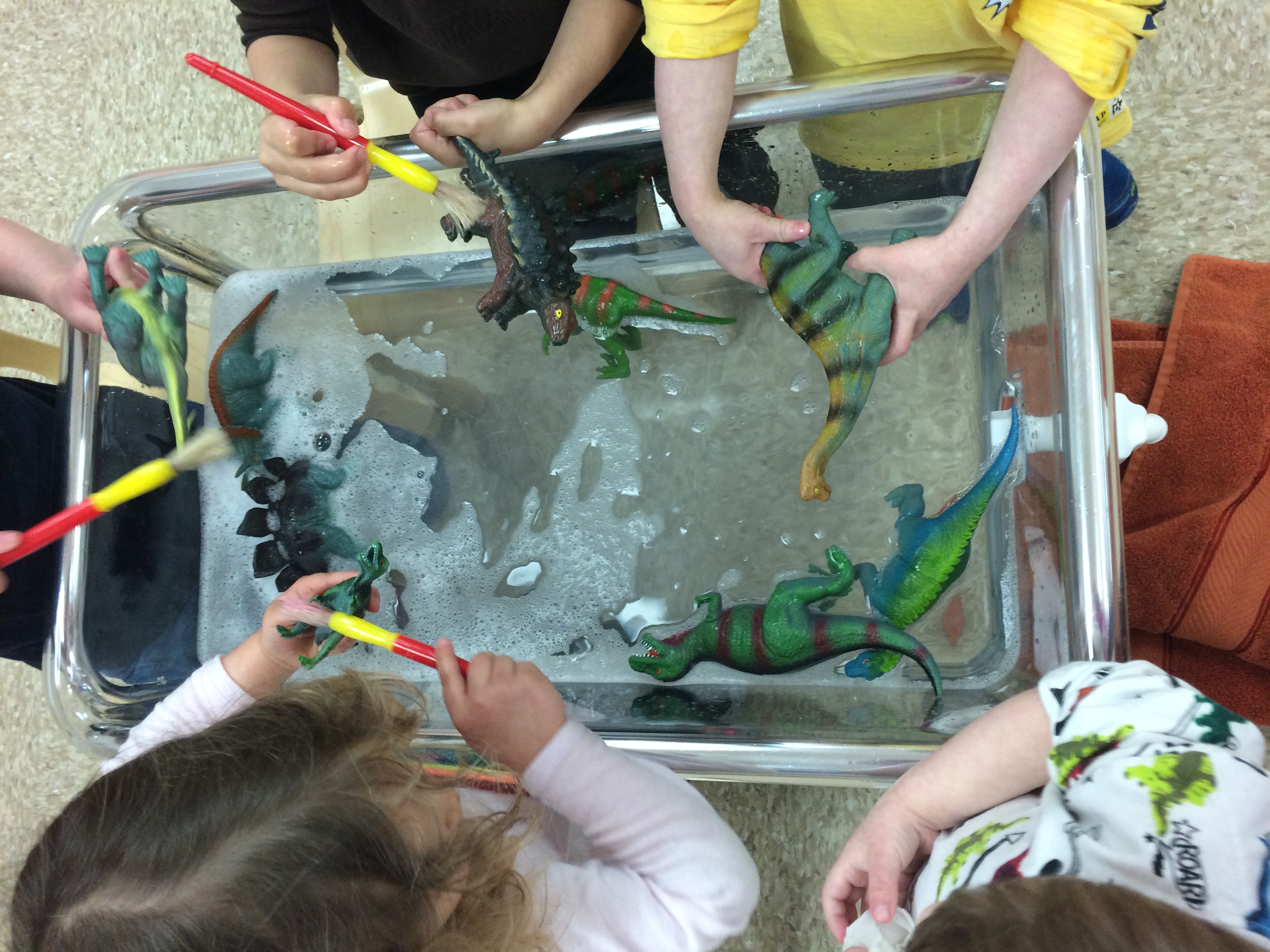 I regret that I was unable to record much of their dialogue during the washing, because they had an in-depth conversation about the different features of the dinosaurs and how they thought they had gotten dirty enough to need a bath. The audio was drowned out by sound of the sink and splashing!
While in the midst of washing, Matthew took notice of the spout on the end of the water table, which is used to drain it after use. Intrigued by its purpose, he began experimenting with how he might sneakily drain some of the water out without the others noticing. Isaiah assisted him in this endeavor, using his hands to "push" the water in the table towards the spout so that it might come out faster.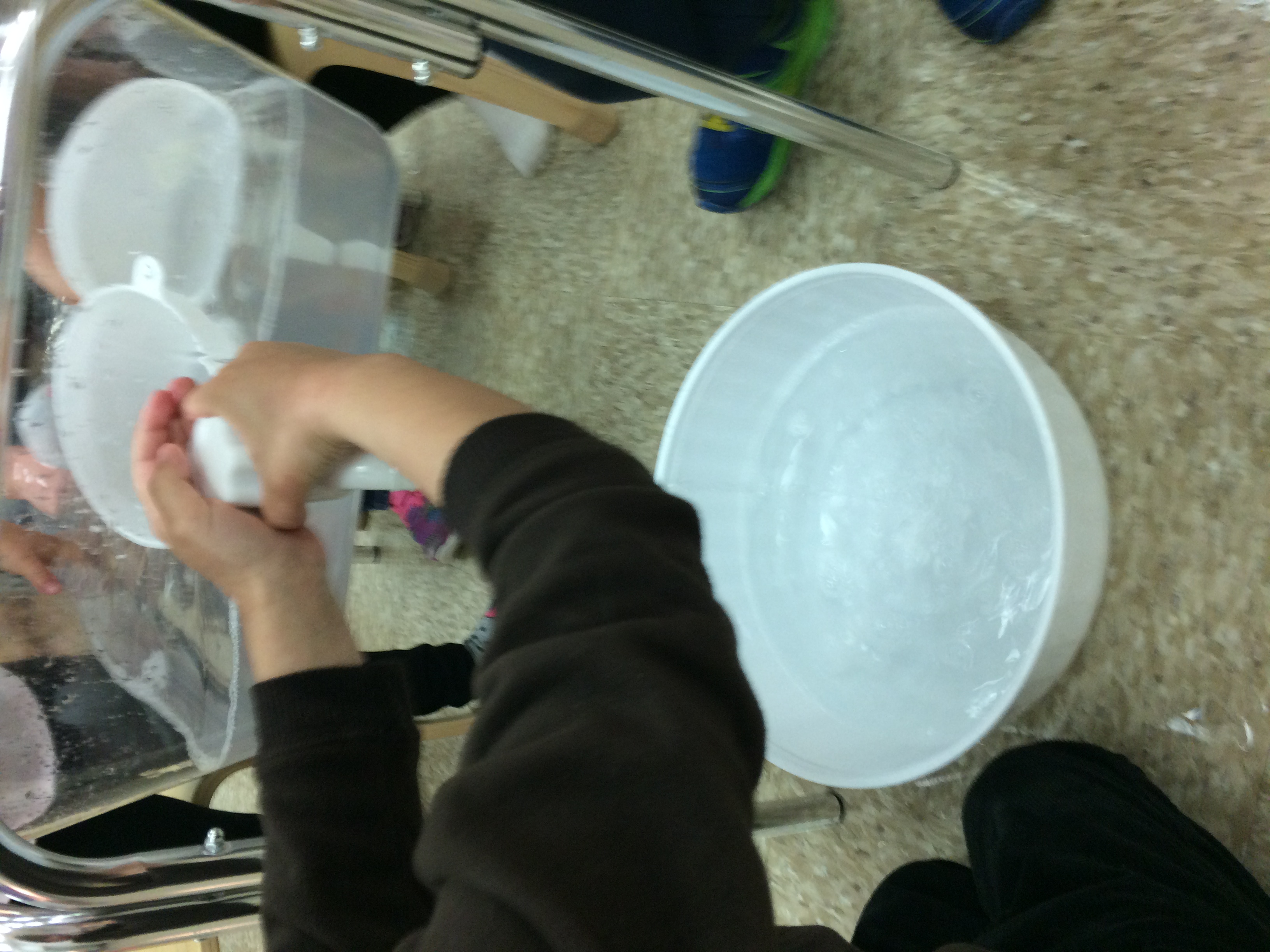 Once the other children noticed what he was doing (and after a friendly discussion about how we were not ready to drain the water out quite yet!), they were inspired to experiment with the water in a similar way. We added funnels to the water table and they used them to see how they could manipulate the speed of the water's movement using the funnels.
This activity, while seemingly simple on the surface, was actually a great foray into the subject of scientific investigation, matter, and physical properties of water. I align all of our curriculum to the Virginia Foundation Blocks for Early Learning, which are a set of comprehensive standards for 4 year olds published by the Virginia Department of Education. These standards are organized to build directly towards the kindergarten Standards of Learning, ensuring that preschoolers enter kindergarten with all of the knowledge concepts and skills they need to be successful in elementary school. Today's activity linked directly to foundation blocks in the areas of science and math, including more specifically:
Science 1.a: Use simple tools and technology safely to observe and explore different objects and environments
Science 1.d: Make predictions about what will happen next based on previous experiences
Science 2.a: Describe and sort objects by their physical properties
Science 2.d: Sort objects based on whether they sink or float
Math 3.c: Use the appropriate vocabulary when comparing temperatures, e.g. hot, cold
Math 4.d: Describe the position of objects in relation to other objects and themselves
I will be posting foundation blocks alignment information with some of our project work in the classroom for those who are interested, as I know many families are looking for information on kindergarten readiness, especially as spring and summer are on the horizon!
Have a wonderful weekend!