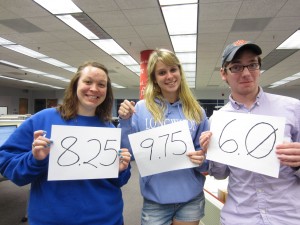 Starting March 18th, Greenwood Library will be conducting the LibQUAL survey of library service quality.  Longwood students, faculty, and staff will receive emails with a link to participate in this nationally recognized survey.  Participants may choose to enter a drawing to win an iPad with Retina display or Solo headphones by Beats by Dre.  The survey will close on April 5th.
By participating in this five-minute survey, you will:
• Let us know what services work best, and where to target improvements
• Help us better understand how the Longwood community rates library services
• Allow us to benchmark results against other libraries to determine best practices
If you participate, your responses will be kept confidential. No identifying links between responses and the individual responding will be retained. Only combined data will be reported.
If you have any questions about the survey, please contact Mark Lenker, Librarian for Instruction and Research Services, at lenkermn@longwood.edu or 395-2257.
We look forward to your feedback!