The new year brings interface updates to LexisNexis Academic and Literature Online (LION).  LexisNexis Academic now features a single, prominent red search box that defaults to a combined search of news, business, and legal content.  Advanced search options are now available on the homepage, in addition to the three most popular single search forms from the previous interface — Search the News, Look up a Legal Case, and Get Company Info.  For a video introduction to the new interface, click here.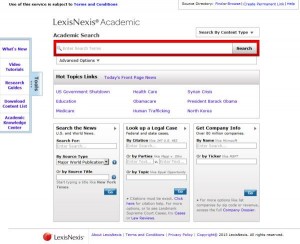 Literature Online (LION) is now on the ProQuest platform.  Through the Quick Search box on the homepage, you can find resources related to a particular author, title of a work, or subject.  You can also search Authors, Texts, Criticism, and Reference separately.  For more guidance on searching LION, check out Proquest's product guide by clicking here.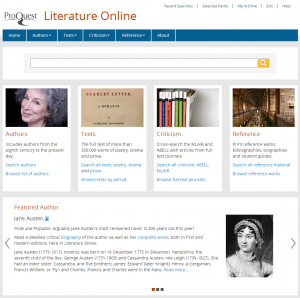 In addition, three resources that are available through LION have now been added as individual databases on our Databases A-Z page to help you find them more readily.  These include:  Bibliography of American Literature, Editions and Adaptations of Shakespeare, and the The W.B. Yeats Collection.