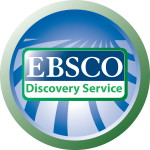 Have you ever wanted to look for journal articles AND  books from a single search box? The Greenwood Library invites you to try the "one-stop" EBSCO Discovery Service (EDS) on trial through May 2011.
This search tool allows you to use the familiar EBSCOhost interface to search the Library's catalog and many of our article databases at one time. Test it from the library home page.

We hope you'll also tell us your impressions. The Greenwood Library is considering purchasing this product.  Your feedback will help us determine if EDS is a useful tool for conducting research at Longwood University.
Here are a few things to note about the trial:
It searches many but not all of the Library's databases.
All EBSCOhost databases are included.
It searches JSTOR and several other journal collections.
Many but not all of the Library's electronic books are included.
Books, CDs and DVDs added after January 2011 are not included.
Results include both print and online resources.
If you have questions about the trial, which ends May 31, 2011, please contact the Learning Commons at x2435 or refdesk@longwood.edu.