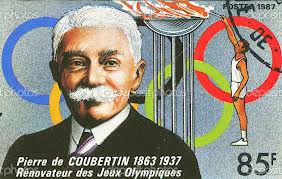 From Sports Illustrated.  By Jacques Rogue, Chairman of the International Olympic Committee:
Like many people, I consider New Year's Day to be an opportune time to reflect on the past while looking to the future.
This is especially true as Jan. 1, 2013 marks the 150th anniversary of the birth of the founder of the modern Olympic Games, Pierre de Coubertin.
Coubertin's personal motto was "look far, speak frankly, act firmly," but even he could not have foreseen how his vision for the Games would grow into one of the most significant cultural events in human history, affecting, in one way or another, billions of people around the world and touching almost every household on the planet.
He would, of course, be delighted to know that 118 years after establishing the International Olympic Committee (IOC), the Olympic Movement is stronger than ever. And it is safe to assume that he would have been astonished by what transpired in 2012.  Continuez.