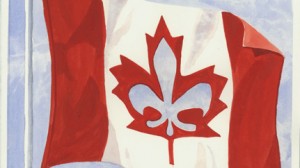 From the NYT: Quebec's stringent language laws, passed in 1977, have long meant that regardless of the name out front, all large retailers serve customers in French and post signs that are predominantly, or entirely, in French along their aisles.
Now, after decades of permitting a plethora of English-language trade names on signs, the government agency responsible for enforcing language laws has changed its mind.
Its efforts, accompanied by threats of legal action and fines, to add French phrases and slogans to those trade names prompted six major U.S. retailers to take the province to court last month.  Continuez.