Research: Behavioral Neuro
Our lab investigates the origins of variation in natural populations, a necessary requirement of evolution by natural selection (Evo). What I've found is that a huge amount of variation arises as a result of interactions between the environment and the developing organism (Devo). This happens in all organisms, but now we're studying changes in the brain due to the experiences of pregnancy, parturition (giving birth), and motherhood (Neuro). To do this, we compare non-mother rats to mother rats in terms of behaviors, neuronal activity, and hormone expression levels.
ONGOING PROJECTS
Maternal Rat pup recognition & decision making – we are identifying how mother rats decide whether to care for pups if they are her own or from another mother. We study this in the context of which is most evolutionarily advantageous.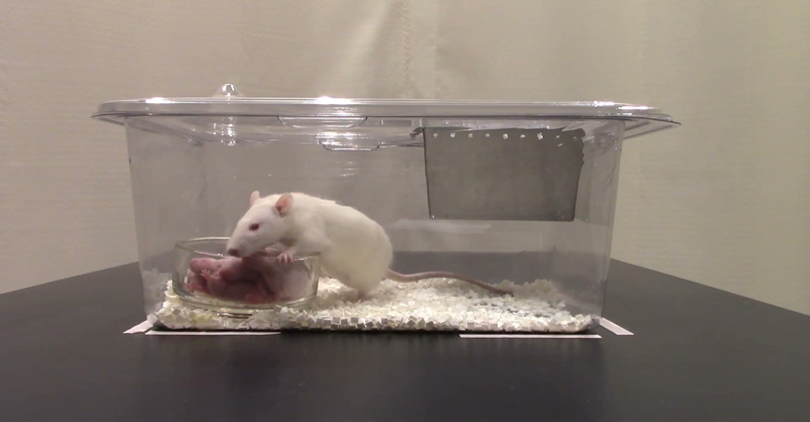 Multi-generational Epigenetic Effects of Maternal Behavior – now in our new home in Allen Hall at Longwood University, we're investigating whether anxiety, depression, memory, learning, and resilency are affected by maternal behavior. Further, we wish to discover if environmental enrichment can mitigate any negative effects of bad parenting.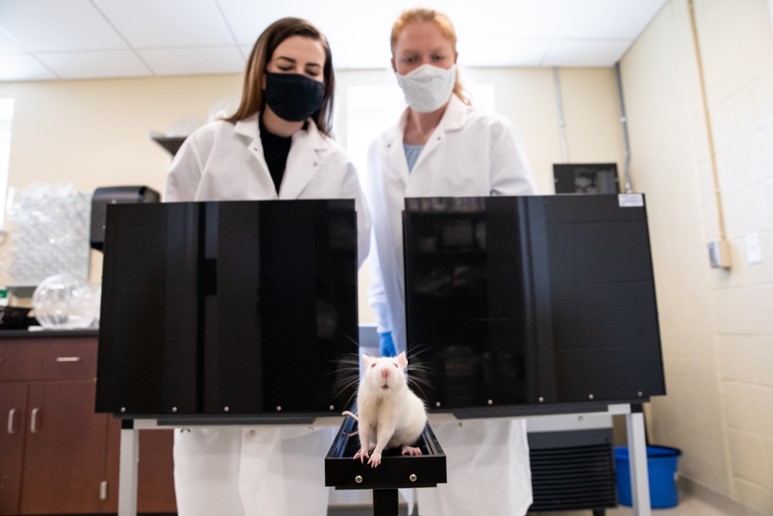 Curriculum Design – an avenue of study that I share with my colleagues rather than research students is the development of new courses, curricula, and best practices in their creation. If you are interested in pedagogical collaboration, please contact me!
---
SELECTED PUBLICATIONS
Franssen CL, Lowry GS, Franssen RA (2017). Using Action-Mapping to Design a Non-Majors Neuroeconomics Course to Teach First-Year Collegiate Skills. J. Undergrad Neuro Ed. 16(1):A52-A59
Kinsley CH, Blair JC, Karp NE*, Hester NW*, McNamara IM*, Orthmeyer AL*, McSweeney MC*, Bardi MM, Karelina K*, Christon LM*, Sirkin MR*, Victoria LW*, Skurka DJ*, Fyfe CR*, Hudepohl MB*, Felicio LF, Franssen RA, Meyer EEA, da Silva IS & Lambert KG, (2014). The mother as hunter: significant reduction in foraging costs through enhancements of predation in maternal rats. Hormones and Behavior 66(4): 649-654.
Franssen RA, Rzucidlo AM*, Franssen CL, Hampton JE, Benkovic Jr A, Bardi M, Kinsley C, Lambert KG (2012)
Reproductive experience facilitates recovery from kainic acid-induced neural insult in female Long Evans rats. Brain Research 1454:80-89.
Franssen CL, Bardi M, Shea EA*, Hamption JE, Franssen RA, Kinsley CH, Lambert KG (2011). Fatherhood alters behavior and neural responsiveness in a spatial task. Journal of Neuroendocrinology 23:1177-1187
Stopper GF*, Hecker L*, Franssen RA*, Sessions SK. (2002). How trematodes cause limb deformities in amphibians. Journal of Experimental Zoology 294: 252-263
Sessions SK, Franssen RA*, Horner VL* (1999) . Morphological clues from multilegged frogs: Are retinoids to blame? Science 284: 800-802