Fellowship of Christian Athletes Internship
Comm 492 Portfolio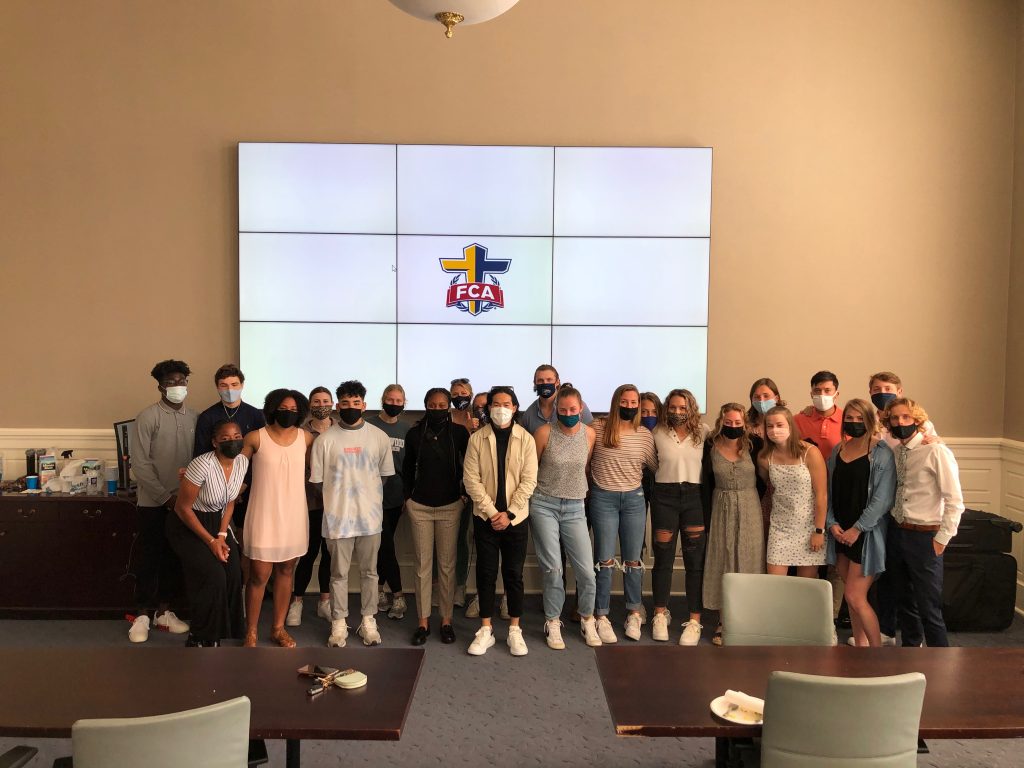 Matthew Ward
05.30.2021
Communication Studies
FCA Internship
During my time interning for Fellowship of Christian Athletes campus ministry during the spring semester of 2021, I was enlightened with complete conviction of the career path I want to take. This internship brought to full resolution my desire and calling to shepherd and pastor people. Each week I was charged to perform write ups and presentations about biblical ministry principles, help prepare and facilitate FCA gatherings, read through a chapter of a book about ministry leadership, and to market and network throughout the semester for the organization.
Working with Courtney Taybron, my supervisor, was a true gift. She always made sure to check in on me personally and made sure I was doing well before any work. Courtney is wise and principled, she is objective yet emotional, she is humble and always ready to learn more. The biggest lesson she taught me was to never waver in faithfulness and to work readily to show compassion and empathetic understanding to others. The internship with FCA helped highlight leadership and shepherding roles within ministry and I have fallen in love with it.
Some of my specific accomplishments during my time with FCA was being able to network with other christian communities. I was able to partner with a international organization and collaborate with them to promote a video that reached thousands of people. I was able to learn more about social media advertisement and running media platforms in order to market the organization. I enhanced my public speaking skills and my conceptualization techniques when preaching and facilitating at FCA gatherings. I think this organization and its counterparts are set up to help those who intern to learn, adapt, and succeed at the most fundamental level. I am better equipped and prepared for my future career thanks to Courtney's guidance and FCA's family.
Samples of My Work
Below, you will see five samples of my work during my time with FCA. Some works will be hyperlinked and some will be displayed through pictures. I hope you enjoy viewing my work and I encourage anyone to reach out with any questions.
Weekly Biblical Write Up Sample
Every week I was tasked with writing biblical summaries and presenting them to my supervisor. Each week I was assigned a short book within the new testament and was challenged with breaking down the entire book into a textual analysis summary. These summaries were broken down verse by verse and then finished with an overall summary of the entire book and then included a write up of how these particular books encompass ministry principles. This allowed me to reflect on how the biblical materials I was covering related to a future career in ministry. This task was important because it helped bring biblical principles to light and required me to stay objective within biblical truth while pulling out ministry principles. During the semester my supervisor and I walked through numerous books in the bible containing a variety of themes and theological elements. We analyzed the books of Titus, Ephesians, 1 Peter, 2 Peter, Jude, 1 John, 2 John, 3 John, and the gospel of John. I believe this was one of the most fundamental ways I was prepared for my future career. My future career will consist of biblical principles and teachings and what better way to enhance that wisdom than spending intentional time textually analyzing the word of God.
Preaching and Leading FCA Sample
In my future career teaching biblical principles, preaching, and facilitating gatherings are key structural elements to stepping into a career in ministry. Within ministry, preaching is the exaltation of God by declaring what the Lord has decreed in the Bible. This not to be mixed up with teaching. Teaching is the explanation of Scripture; analyzing what it means and applying it to life. While preaching is the formulation of teaching and the art of communication in public speaking mixed together. This skill was imperative to my internship and will apply directly to my future career. Preaching consists of preparation, formulation, and delivery. Over the course of the semester during my internship I helped prepare for each meeting, but specifically led and preached during 3 meetings. One specific example of preaching this semester was during the FCA easter service. I prepared an easter service message while also helping lead the group in communion. This helped me enhance my public speaking skills, improve my intercommunication skills, and my overall organizational skills.
Networking Sample
Networking and collaborating with other religious organizations is a great way to grow marketing and awareness of any organizations vision and goals. I was so humbled by the opportunity to hop on an Instagram live with Carry The Love's Alex Nelson. Alex and Carry The Love are an international christian organization that help bring the love of Jesus to college universities. We took the time to chat about how God is moving in the southeast and specifically at Longwood University. Check out this Instagram live to hear testimonies about baptisms and the power of jesus moving on campuses and in people's lives. Reflecting after this networking opportunity, it was made clear to me how impactful these collaborations can be. I was met with many emails and messages about the video and with questions about the content. This made me realize the possibilities of outreach opportunities and how in my future career I will be met with the task of answering many questions and collaborating with other religious institutions. Ultimately, i love meeting and talking with new people. Getting to hear others perspectives and testimonies will certainly be a part of my future career and I can't wait for it.
Link to Networking Sample Video
Baptism
When preparing for my interning role with Fellowship of Christian Athletes I wasn't expecting to step into the ministry role of baptizing. Although, when given the opportunity, I humbly accepted. In terms of the bible and leading a church, baptism is very much a part of the job and is a role that should be common and well versed by anyone in the church and especially one leading in the church. Being able to make disciples and bring people to Jesus is a role of all believers. Being able to help walk with and encourage someone in their faith is not only a ministers role, but also one of the greatest gifts of fellowship and friendship. Which is also a part of ministry. One must be able to not only lead people, but understand them. A relational and empathetic listening leader is imperative for the church.
Presentation on Biblical Principles Sample
During my internship my supervisor and I challenged ourselves to perform biblical write ups on general topics. Thes topics included holiness, grace, sin, and purity. These biblical topics are general when it pertains to the church, but specifically confronted in ministry constantly. These write ups would consist of drafting and redrafting over the course of three to four weeks at a time on each topic. These topics are imperative to cover as they are basic theological and doctrinal ideologies that must be addressed and foundational conceptualized so that one can properly and truthfully lead and shepard a congregation of people within ministry. Covering these topics we used biblical evidence to back our theses and findings. Defining these words and their implications became a real joy and challenge that was accepted with and eager spirit. Understanding these topics at their very core will apply directly into my life working in the church and any specific career path I take within it.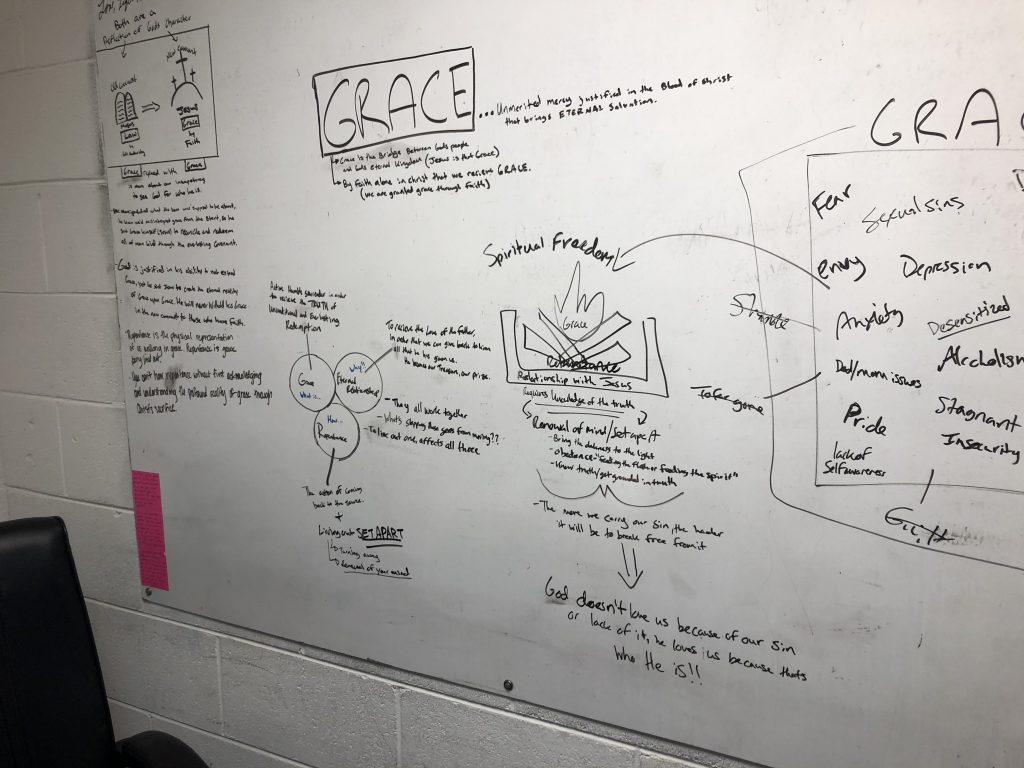 Attached here is the link to a google doc of journal entries that highlights my experiences during my internship. I hope you enjoy!