Career #1 – Athletic Trainer
History/Background: Athletic training in the United States began in October 1881 when Harvard University hired James Robinson to work conditioning their football team. The first athletic training curriculum was approved by NATA in 1959 and the amount of athletic training programs began to grow throughout colleges and universities in the United States.
Academic requirements: Athletic trainers need at least a bachelor's degree. Nearly all states require athletic trainers to have a license or certification; requirements vary by state.
Job setting: Many athletic trainers work in educational settings, such as colleges, universities, elementary schools, and secondary schools. Others work in hospitals, fitness centers, or physicians' offices, or for professional sports teams.
Average Salary: The median annual wage for athletic trainers is $47,510.
Resume: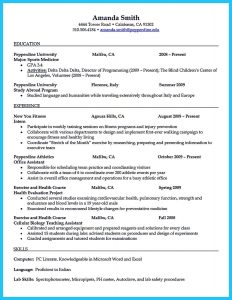 Career #2 – Nutritionists/Dieticians
History/Background: Dieticians and nutritionists first worked in hospitals in the late 19th century as the role of good nutrition in health began to be accepted.
Academic requirements: Nutritionist and Dietician prerequisites generally include at least a bachelor's degree in nutrition science or in a related science or health field. After earning a bachelor's degree, a nutrition specialist must seek further certification and accreditation, depending on the focus of their work.
Job setting: They often work in hospitals, long-term care facilities, clinics, private practice, and other institutions.
Average Salary: Dietitians and Nutritionists earned an average salary of $60,150 in 2017.
Resume: