About Me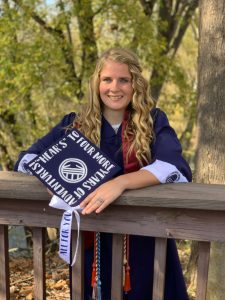 Hello! My name is Alyssa DiMarino and I am a Communication Sciences and Disorders major, graduating in December of 2020 with a Bachelor of Science degree. My dream job is as an Audiologist; I want to work with hearing and balance disorders and gain close connections with my patients by being able to help their disorders whether it's with hearing aids or cochlear implants. I also look forward to being able to see their progress throughout their life. I am most interested in being on a cochlear implant team in a hospital setting within my field of study.
Going into college, I declared my major in Kinesiology, but I was not sure what I wanted to do as a career path until I researched more and found the Communication Sciences and Disorders major. I have always loved to help people and make a difference in their lives; I knew I wanted to do something with healthcare where I would be able to do that, but I was not sure what I wanted to do with healthcare until I declared Communication Sciences and Disorders as my major in my sophomore year of college.
I took my first couple of classes in the major and loved them all; however, I was not sure whether I wanted to take the Speech Pathology route or the Audiology route as I had backgrounds in both fields with my older sister, Ashley, having delayed speech where she saw a Speech-Language Pathologist throughout her childhood and my cousin, Jordan, who saw and still sees an Audiologist for her hearing aids and cochlear implant due to being deaf. It was not until my Anatomy and Physiology of the Hearing Mechanisms class that I knew I wanted to pursue a degree in Audiology. I was so intrigued and interested in the anatomy and functioning of the ear and all the structures that assist with hearing within the brain. This interest continued throughout all my Communication Sciences and Disorders classes and I was interested in learning more which I did by focusing my class assignments on audiology and researching different aspects and concentrations within the field of audiology.
Finally, in spring 2020, I got to take an Introduction to Audiology class which I absolutely loved and knew that audiology was what I wanted a career in. I loved being able to learn about the physics within hearing, the different types of hearing disorders, how to protect your hearing, and the different types of tests and assessments for hearing and balance disorders. Although I took it during the COVID-19 pandemic when it first started, I am thankful that I was able to have hands-on experience with all the different assessments and learn the functions for the different types of equipment used in hearing tests, and also being able to conduct my own hearing screening on my classmates; I was also able to get in a few observations with my professor with her patients which I absolutely loved and felt ecstatic for when I get to do that in my future career as an Audiologist. Now, I am applying for graduate school in Audiology to pursue a Clinical Doctorate in Audiology (Au.D.).
Contact information:
alyssa.dimarino@live.longwood.edu