May 28 2016
Posted by Devan Doss under Uncategorized
In this post we are showing you all 3 important images that convey our packs issue of fire management that we found during our exploration through the Greater Yellowstone Ecosystem.
If you have any other pictures to share with us please tag us on Twitter, Instagram, or Facebook!
The image to the left is telling the public that forest fires are a threat to the community and that the community needs to always know how high the risks of fires are in their location However, the image to the right talks about how wildfires are a benefit to the ecosystem because they not only help for seed dispersal to grow more trees, but also benefit elk, bison, wolves, etc. The contrast between these two images are quite interesting because the image on the left portrays fire in a negative, life threatening light while the image on the right portrays fire as a benefit to the natural park. I think both these images are successful at portraying their message because they both have a clear way of communicating the issue at stake. I think the contrast in the messages being communicated led to a greater argument of whether or not fires should be viewed in a negative light or a positive light.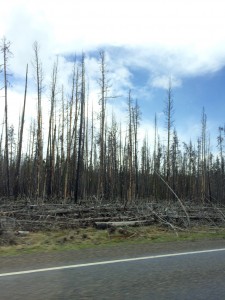 This photo really caught our eye because fire management is a huge concern for the locals that live near the forests. They have a massive amount of expensive land and some of it is being burned in the process of the forest fires which decreases the value and also the beautiful view that they paying for. This image shows how powerful a fire can be, it can erase everything in it's path, and therefore, conveys how important fire management is in Yellowstone National Park.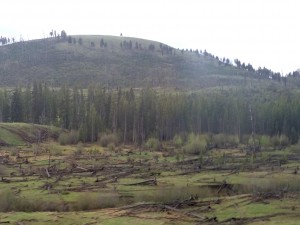 This picture was important to put in our gallery because it really shows the distinct path that the fire took and also how the trees have regrown.  Wildfires are beneficial for the ecosystem because they allow for the regeneration and spread of lodge pole pine trees which open up and disperse when heat is around them. Fires do not just help trees regenerate but they provide a food source for elk and black bears.  We learned this information from Dr. Kelrick during our oral history foray!
Comments Off on Photographs as Visual Data