For this blog post, pack six will be sharing a few of our public documents we either picked up along the way or snagged a picture of. All a public document is, is a matter of an open view that is shared with people through a written, drawn, electronic, or printed fashion. So, something as simple as a bumper sticker or a picture of a sign. There doesn't even need to be words! If you like our public documents on our issue related to trout and other invasive aquatic species, feel free to use our hashtag to show us some public documents of your own!
#packsixtroutfix

When we think about the survival of our favorite species we sometimes do not consider the entire ecosystem. We learned throughout the trip that every species effects the greater Yellowstone ecosystem. Our Pack, Pack 6 has learned about how bears, otters, mink, osprey and other birds rely on spawning cutthroat trout for food. If the algae ceased to exisist bears, lake trout, birds, and otters would have to look for different food sources. This would have damaging effects on the Yellowstone ecosystem. This is why all native wildlife is important and must be protected. #packsixtroutfix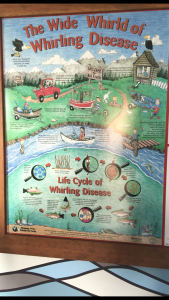 We chose this public document because the message it is trying to illustrate is the Whirling Disease and how it is not only effecting human's but it is disrupting the ecosystem because of the fish. Fish are the total backbone to the Yellowstone ecosystem in regards to food. People and animals both feed on this animal and if the disease is getting caught by the fish, then all that eats it will catch the disease too.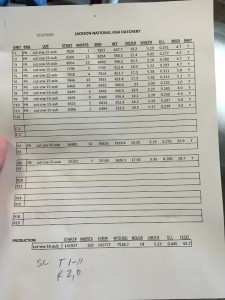 This public document here is the feeding charts of all the trout. It tells you the different start to ends of feeding as well as the length that it needs to be. This sheet is one of the most important pieces of information to a fish hatcher!