Rickylyn Cundiff on May 26th, 2016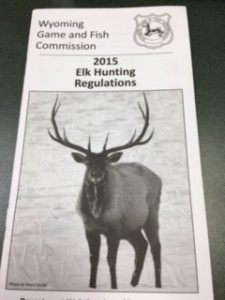 I found this brochure  at the Game and Fishery Management Center in Jackson Hole, Wyoming, when we spoke to two Wildlife Biologists, Ben and Aly.  This public document was meant to raise awareness for the different elk hunting restrictions. Included inside it describes the different hunting seasons with the different types of licenses and limitations as well as includes an area map with the different zones and their regulations on it. On the back side, there are telephone numbers to call to help save and donate to the elk population. This public document is trying to communicate to not only hunters, but everyone, the importance of following the rules, not only for the elk's sake, but for humans as well. The elk picture on the front helps readers know exactly what animal is being under consideration and in the bold font it clearly states 2015 Elk Hunting Regulations, which will attract the readers attention. This correlates to our issue of how to manage elk effectively without under populating or overpopulating.
The following two images come from a flyer that was given to me by a park ranger at the Craig Thomas Visitor Center in Jackson Hole, Wyoming. This flyer gives in great detail everything you need to know about managing elk, their physical characteristics, the refuge, and even includes a map on the back indicating where they can be hunted. The purpose of this is to inform visitors about the elk population and ways that they can help protect the elks and themselves. The flyer was folded into a small packet that was easy to transport and had a fun picture of elk on it. The whole thing is black and white to most likely save money on something that most people will probably throw away. What I thought was interesting was that I had to ask if they had a flyer on elk. There were no flyers out for people to grab on any topic. This is probably because not many people are interested in the issues involving elk or any animal. This public document is a great source of information of our pack to learn more about the elk annual cycle and the management program.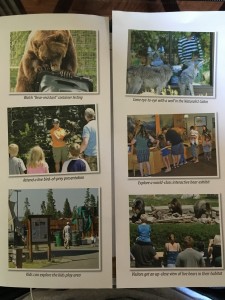 The above images are from a public document found in the hotel we stayed in, in Jackson Hole, Wyoming. There were many on display for people to grab and look through as they pleased. This particular document is trying to persuade people to visit the Grizzly and Wolf Discovery Center in West Yellowstone. This Discovery Center seems to very human centered as there are many shows put on for people, and they can view the animals within close proximity. Perhaps this document is trying to portray that these animals are actually quite normal and the wildlife experts are trying to get people to not be as scared of them as this is probably a very educational experience. In terms of looking at this through the ethical lense, I feel that there will be multiple people who do not agree with the type of environments these animals are being put in. This discovery center puts on shows where the bears try to open "Bear-resistant" containers, where the bears do not have to hibernate, and where visitors can come eye-to-eye with wolves. Many of these are either not natural environments for the animal as the bear naturally hibernates during the winter, or are very human centered in terms of entertainment. After recently visiting Yellowstone National Park, I got this feeling of overwhelming love for the natural and untouched lives for the wildlife. Certainly there are some people who either live near Yellowstone National Park or who just have a general love for the wildlife, that would strongly disagree with this form of grizzly and wolf management.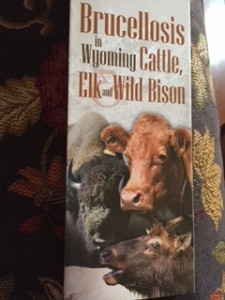 I found this literature in Jackson, Wyoming when we visited the Wyoming Game and Fish Commission. The pamphlet overviews why Brucellosis is a tough disease to eliminate in cattle, elk, and wild bison. A few facts located on the back on the pamphlet states that the disease is contagious, travels on the animals nose, mouth, or eyes by contact of diseased fetuses, placentas, or contaminated organisms. The pamphlet grasps attention because of the colorful pictures of the wildlife. From a political standpoint ranchers are loosing millions of dollars because of brucellosis so the amount of money needs to be debated of how to prevent the spread of the disease. The Governor's Brucellosis Coordination Team is a group of twenty-two members that are experienced at state and federal level that provide public meetings for open opinions on how to treat the disease. Other agencies such as USDA-APHIS and the Wyoming Livestock Board is also involved in the prevention of brucellosis.  Also, educational programs are managing solutions with federal agencies. My political lens ties in with my issue (elk) by federal and state agencies are currently creating solutions to the brucellosis in elk.