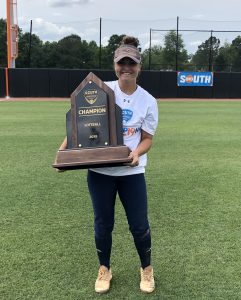 Hello my name is Alexis Wayland and I am a member of the Cormier Honors College, a player on the Longwood Softball Team, and I major in Kinesiology with a minor in NeuroStudies.
When people ask me what I want to do with my degree, most people expect an answer like Physical Therapy or Athletic Training, but in reality I have a goal that most people would never think of. Becoming a professional wrestler has been my career goal ever since I was nine years old. I have always been involved in athletics and professional wrestling is the perfect combination of athletics and entertainment. If professional wrestling does not workout I want to be able to put my degree to use, but as of now I have no idea what path I want to take. Taking Kinesiology courses at Longwood has opened my eyes to the many opportunities that would be available to me after graduation. Exercise Physiology has caught my eye, but I have no experience within that field so it is hard to 100% say that is what I want to do. With that being said, I have been accepted into the PRISM Program and will be conducting research with my professor over the Summer of 2019. Conducting this research will allow me to gain experience in multiple fields and could help me decided on a backup career path.
I have just finished my first year at Longwood, and it was amazing. I am looking forward to three more years, especially my Cormier Honors College study abroad trip! Since I am on the softball team, I have a limited time to do extracurricular activities, but my goal for next year is to join at least one club and become very involved with it. I also would like to explore Farmville more; it is such a beautiful town with many hidden activities. I am excited to see how four years at Longwood will transform me as a person.