I'm Casey Ridpath, a sophomore member of the Cormier Honors College.  At the end of my four years at Longwood, I will have obtained a History degree, with a concentration in Secondary Education.  I am very involved on campus; it's my favorite thing about Longwood!  I am a member of the Alpha Delta Pi sorority, an Honor Board Justice, a Peer Mentor for a Honors LSEM, a member of Alpha Lambda Delta, and of course a proud member of the Honors Student Association.  In the summer of 2017, I had the privilege of studying abroad to Valencia, Spain for 5 weeks, where I was able to take Spanish and History classes, with the help of the Honors College.  My favorite honors class so far, as been my Biology class with Dr. Alix Fink,  "Intro to Water in Our World".  In this class, I was able to travel on many small field trips, and then a full weekend trip to Hull Springs Farm, where I was able ride on an oyster boat, try different types of oysters, and participate in a City as Text assignment in a small town on the Eastern Shore that has been built around the Bay, and their oysters.  I love being a part of the Cormier Honors College, and I can't wait to see what other experiences I will have in the next 3 years!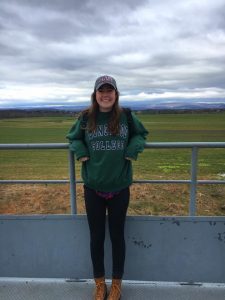 Dear Senior Self,
I hope that you are still just as confident in your career choice as you are as I write this!  If you have any doubts, just remember that you have wanted to be a teacher for your whole life , you have a passion for education, and you believe it can change the world. I hope that at the end of your 4 years, you don't regret anything because it made you who you are today.  I hope you still rely on your Honors Family from time to time because remember that these were some of your first friends, and they will always have your back.  I hope that you truly love Longwood just as much as you did your freshman year.  I know that senior year is really difficult at times, and don't get me wrong, I'm a little bit nervous for you too, but I know that you can do it because you love school and you know that the end game is that diploma.  I hope that you got the chance to study abroad somewhere else, and if you didn't, make sure that you leave Virginia at least one more time, and see the world because it's worth it.  Don't doubt yourself and stay dedicated to your work and you will be just fine.
Good luck in the real world!
Casey