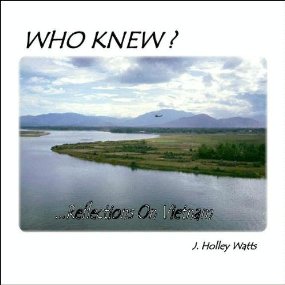 Who Knew?: Reflections on Vietnam by J. Holley Watts
In the Inscribed Collection; signed by the author
Link to catalog: http://readpac.longwood.edu//record=b1301128
Student assistant Chandler Pascale chose to highlight Rural Virginia. He writes:
Published in 2004, Who Knew? is a collection of photographs and memories from J. Holley Watts' service in Vietnam during the Vietnam War. In 1966 as a senior in college, Watts decided to join the Red Cross and chose to serve in Vietnam. There she became close to the American troops fighting a bloody war, and many of her memories are very emotional. For instance, she noted that radio operators often listened to telephone calls made to the United States. When Watts asked why she couldn't have a private conversation, the operator said "It's just that you…you remind me of home."

I chose this book because I don't know much about the Vietnam War, but I wanted to read personal stories from the conflict. Its contents are very emotional and often surprising. Watts' reflections reminded me that my grandfather said he would take cut out sports articles from the newspaper and send them to his friends stationed in Vietnam. Any student with an appreciation for history who would like to see a very unique perspective of a very tenuous episode in America's past would find this book fascinating.
Special Collections Spotlight will periodically feature material that can be found the Longwood University Special Collections and Archives. If you have questions or would like to request an item to be featured, please contact Amanda Hartman at hartmanar@longwood.edu