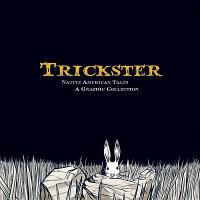 Trickster: Native American tales : a graphic collection / edited by Matt Dembicki
In the Inscribed Collection; signed by the author
Link to the catalog: http://readpac.longwood.edu//record=b1371825
Student assistant Chandler Pascale chose to highlight Trickster. He writes:
While in Special Collections, a book in the Inscribed section entitled "Trickster" stood out from the rest. Compiled and edited by Matt Dembicki, it tells American Indian stories through the use of illustrations. It's a graphic novel, presented like a comic book. However, the subject matter is more serious, and the book begins with a tale describing how the stars were made and why coyotes howl.

This book is in Special Collections because it's signed. It is interesting to read because it grants a different aspect to viewing an often-ignored culture. Also, it might be useful for younger readers who have trouble visualizing written or spoken allegories.
Special Collections Spotlight will periodically feature material that can be found the Longwood University Special Collections and Archives. If you have questions or would like to request an item to be featured, please contact Amanda Hartman at hartmanar@longwood.edu