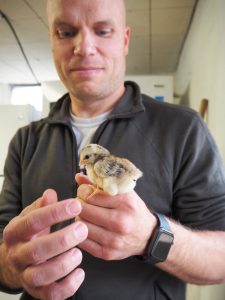 Brandon E. Jackson
Dr. Brandon Jackson is an Associate Professor in the Department of Biological and Environmental Sciences at Longwood University, where he teaches courses covering human and vertebrate anatomy and physiology, comparative biomechanics, and integrative biology. His research investigates the relationship between animal physiology, movement, and evolution, with a special emphasis on the flight of birds.
After a B.A. from Colgate University, then teaching high school biology and spending summers doing research in the Rocky Mountains, Dr. Jackson received his M.S. and Ph.D. in Organismal Biology and Ecology from the University of Montana in Missoula. He joined Longwood University in 2014.
Current Students
Brian White: Brian is a double major in Graphic Animation & Design and Biology. For his research project, Brian is developing a 3D digital model of a bird in Maya that accurately follows 3D digitized points of real birds. This model will allow for realistic visualization of flying birds from any angle to help scientists interpret their data and communicate the complexity of flight to the general public. See more on the project page!
Prospective Students
I welcome committed, hard working, independent students to contact me about research opportunities in my lab that may involve animal behavior, physiology, anatomy, and/or movement. I have lots of ideas for potential projects, or you can bring your own idea about a project that involves animal movement. While you should be very comfortable working on computers, programming experience is not necessary.