Health & Physical Education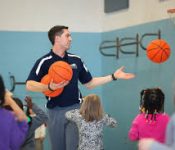 This week's spotlight blog is focusing on the Health and Physical Education graduate program
The Health and Physical Education masters program can be completed in one year or two years for more flexibility. The two tracks offered cater to already licensed Health & P.E. teachers or professionals licensed in another discipline.
All students complete a 5-credit community health internship within a school or community setting. The students also work to submit a grant proposal to fund a school or community initiative.
Career paths for students in the HPE program include:
Teaching in K-12 schools
Coaching and/or teaching at the college level
Working with community health organizations, non-profit agencies and health coalitions
Managing city/county Parks and Recreation departments
Serving as a health advocate
Teaching adaptive physical education
Share your thoughts, post a comment.