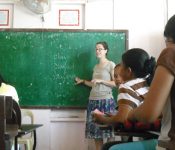 Jeannie Pfautz, alumna of our Reading, Literacy, & Learning graduate program, credits Longwood University for helping her find her niche as a reading instructor.
She started her journey teaching English in Uzbekistan with the Peace Corps. After this experience, she realized that she didn't know much about how to teach students to read.  Then, in 2006, Pfautz started her first job in the United States as a 9th grade English teacher at Powhatan High School.  At the same time, she also started her first class at Longwood University, "Reading in the Content Area."
Pfautz explains that it was in this first semester at Longwood she learned that she knew how to analyze English literature, but didn't have a strong idea of how to help students access difficult text.  The class "Reading in the Content Area" was the perfect opportunity to help her learn more techniques to help support her students.  "I remember using nearly everything I learned in that course in my English classes immediately," Pfautz says. "I quickly learned that students needed to be able to understand the text first before they were able to do more critical thinking, and my Longwood classes helped me to support students in that access of text."
As a graduate student who was also working full-time at a high school, Pfautz claims that the classes were great both for their usefulness and because they were structured for teachers to take while already teaching.  The structure of Longwood's masters program made it possible for her to pursue her masters, while also giving her the theoretical knowledge that she needed to implement better practice.  "I can't imagine having gotten my masters without teaching or teaching without getting my masters.  It worked so well together," she goes on to explain.
Pfautz graduated from Longwood in 2009 from the Reading, Literacy, & Learning masters program. After she graduated, she immediately headed to the Philippines for two more years in the Peace Corps.  While in the Philippines, she worked with a fantastic co-teacher, Thelma Presbitero.  Presbitero and Pfautz started a reading intervention program at the high school where they worked and later went on to build a reading center that is still operating today.
As a teacher who consistently is striving to better herself for her students, Pfautz recently finished her Ed.D from the University of Virginia. "Starting the program with my masters definitely helped me with foundational knowledge.  At this point I had been a reading specialist for several years, so I had seen a lot of the practical side of things.  Without my masters from Longwood as well as my practical experience, I don't think I would have been nearly as strong of a candidate.  I was also able to count some of my masters credits towards my Ed.D. coursework."
Pfautz is often asked her favorite part about teaching reading. What she loves most about this job is the ability to see the progress her students make in reading development every year and to know that this literacy growth will make a positive impact on their lives well after she has had the pleasure of working with them.
Judy Deichman, an alumna of our School Librarianship Master of Education program, is truly a shining star.
Deichman is a librarian at Nottoway Middle School who has recently been recognized with the Longwood University Thomas Jefferson Professional Achievement Alumni Award and the Virginia Association of School Librarians (VAASL) James Regional Librarian of the Year Award.
"As the James Region Librarian of the Year, she was one of seven regional librarians chosen to represent the Virginia Association of School Librarians," stated Audrey Church, Professor and Program Director for School Librarianship. "From these seven, a state winner, Virginia's School Librarian of the Year, will be chosen and named at the November 2019 Annual VAASL Conference in Roanoke, Virginia."
On top of the high honor of being named the VAASL James Regional Librarian of the Year, Deichman was recognized by Longwood for her achievements and her leadership roles in her profession. The Thomas Jefferson Professional Achievement Alumni Award recognizes alumni who have distinguished themselves as significant contributors to their profession and stand above their peers as leaders and role models. Deichman's proactive approach in her profession has contributed greatly towards her strong leadership role among her peers.
In 2015, Deichman realized that although the library stayed open over summers, some of her students were not able to utilize it due to lack of transportation. Wanting to assure all students had the same opportunity and access to the books, she decided to bring the library to the students. With a donated small bus and a grant to purchase books, Deichman was able to make the Nottoway Book-A-Way Summer Bookmobile. This innovation and proactivity is just one example of the leadership role that Deichman has taken in her profession to improve the local community.
At SHAV, first-year graduate students present their research projects and compete against other graduate students from CSD programs throughout the state of Virginia. Longwood students, Shannon Graham, Courtney Kaczmarek, Lizzie Llewellyn, and Payton Yates were awarded first place during the research poster presentations. Their award winning research was titled, "Effects of Instruction Method on Competency and Perception of Proloquo2Go."
In addition to winning first place in research, another Longwood CGPS student received an award. Lucy Wallace, a senior in the Communication Sciences and Disorders program, was recognized with the SHAV Outstanding Student Leader Award. "As a Longwood student of the CSD program, I had an array of opportunities and experiences available to me…highlights include serving as an executive officer in the Longwood National Student Speech Language Hearing Associates (NSSLHA) chapter for four years, collaborating with the Farmville Lions Club and Longwood Student Government Association to establish a Longwood Lions chapter, and working with the Infant and Toddler Connection of the Heartland's annual Christmas Giving Tree program," Wallace stated. Wallace attributes a large part of her success to the faculty and staff in the Longwood CSD program, stating, "They are committed, passionate, and genuinely interested in preparing students to succeed."
Dr. Mani Aguilar, Clinical Audiologist at Longwood's Speech, Hearing, and Learning Services, received the State Clinical Achievement Award at the 2019 SHAV Conference. She was recognized for her partnership with the Virginia Department for the Deaf and Hard of Hearing, offering a Technology Assistant Program at Longwood. Longwood now serves as a demonstration site for assistive listening devices for persons with hearing loss. This partnership has generated over 200 patient visits, with the dispensing of such devices as personal amplifiers, visual alert systems, and captioned telephones. "Mani created a support group for persons with hearing loss that has a regular participation of 25 members in each monthly meeting," stated Dr. Lissa Power-deFur. "The persons with hearing loss in Southside Virginia are so fortunate that she is here." In response to her recent achievement, Aguilar recognized the amazing support she has received from her department at Longwood. "The award I recently received from SHAV was possible because of our wonderful leader, Dr. Lissa Power-deFur, as well as the efforts of our entire team of faculty, staff, and students!"