SPEAK Out! Day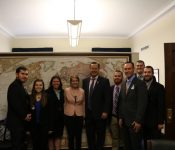 On Tuesday February 13th seven members of the Health and Physical Education master's program, 6 graduate students and Professor Kari Hampton, headed to Washington DC to prepare for the SHAPE America SPEAK Out! Day. The society of Health and Physical Education sponsors an annual Speak Out Day for health and physical education advocates to meet with members of Congress.
The group spent the 13th preparing and learning about ESSA (The Every Student Succeeds Act) and about how the act needs to be funded in order to properly serve students across the country.
On February 14th, the group headed to Capitol Hill to meet with various Virginia Representatives. They spent time meeting with members from Congressman Dave Bratt's office as well as staff members from seven other Virginia Congressman and Senators offices.
Below is a quote from Dr. Kari Hampton:
"The students and I learned so much and enjoyed getting to share what we know with those who can make a difference. The learning experience for our students was one that I cannot replicate in the classroom, this experience taught our students to think on their feet, to express themselves regarding topics they are passionate and to find ways to defend funding for a bill that will ultimately help them and the students they will serve in the future."
Below are quotes from two members of the program who attended the Speak Out Day:
"As a soon to be professional teaching in the school system, I believe this experience was liberating to be able to advocate for something we're passionate about." – Ashley Brown '17
"From a professional stand point this experience taught me that no matter how big or small my opinion matters there's so much we can all be doing to make the educational system better." –Erica Mawyer '17
Photo:
From Left to Right: David Van; Ashley Brown, Dr. Kari Hampton, Erica Mawyer, Congressman Dave Bratt, Jeff Wagnon; Eric Grutza, Paul McFarland, Andy Lucas.