Longwood graduate students take on CrossFit!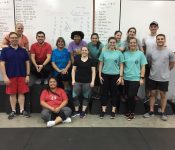 CrossFit with the Dean took place on January 26th 6:30 to 7:30 pm. Members of the Graduate Student Association got to see how they hold up to our very own Dean Perry during a rigorous hour of exercise. Though CrossFit has a reputation for not going easy on you, the students had a great time! Many of them got to learn what CrossFit is all about. Dean Perry, of the College of Graduate and Professional Studies, provided prizes including a free CrossFit sessions to one lucky student!
Share your thoughts, post a comment.