Plastic is fantastic!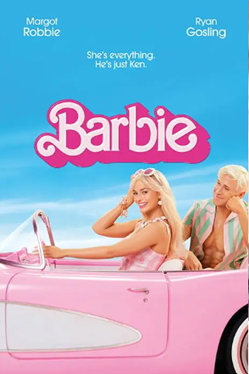 Yes, today will be another wonderful day in Barbieland! Director Greta Gerwig introduces us to 'Barbieworld', based on the Barbie doll by Mattel. A world where women are in charge and can become anything they want. Margot Robbie's character (Barbie) has the most perfect day every day. "Just like yesterday and tomorrow and every day from now until eternity!" But then Barbie is asking: 'Do you ever think about… death?' Barbie's life, in a peaceful pink cloud, comes to an abrupt halt when that unwanted thought arises. Barbie ends up in that real world. Because in addition to those unwanted thoughts of death, cellulite suddenly appears, and (horror!) Barbie's feet, permanently put on high heels, suddenly become flat.
For Gerwig, Barbieland is not only a candy-colored wonderland, but also a successful matriarchy, in which Barbies occupy all social positions. They are construction workers, journalists, doctors, judges, Nobel Prize winners and even presidents. Ken (Ryan Gosling) only plays a supporting role in this world. His job description simply reads: 'beach'. The Kens don't get any further than hanging out on the beach in their colorful outfits. Ken has his own thing going on, because who is he really? A bit of a dorky type, which is mandatory for Barbie. It's Barbie and Ken, not just Ken.
To regain her old self, Barbie will have to cross over to the real world. The fact that she ends up in the real world is because of weird Barbie. She was once the beautiful Barbie there was, but was mutilated by children playing (hair cut short or even set on fire). Weird Barbie knows that somewhere in that real world there is a doll girl who is sad and needs to be fixed. She tells Barbie these are signs that her owner is troubled and sends her on a mission to The Real Wold. Ken hitches a ride on Barbie's journey to our world and marvels at the power men have there. If he brings those ideas to Barbieworld, it will have major consequences. He discovers that men have the power in the world. A male uprising follows, making it a Kendom with 'Brewski-Beer', man caves and fur coats. In any case, Ryan Gosling is sublime as the empty-headed, sun-tanned king of self-mockery.
Barbie is not just about the toy, but also about the role it plays in the lives of children and adults in the 'real' world. When leaving Barbieland, a map is used to the real world. The map looks as if it were drawn by a child, but a clear nine-dash line is shown on the map. This line represents the maritime boundary, and ownership claim of the South China Sea by China. The result is that the blockbuster can be seen in Chinese theaters. Vietnam bans the Barbie movie because of the 'offensive' world map. According to Warner Bros: "The map in Barbie Land is a whimsical, child-like crayon drawing," the studio said in a statement. "The doodles depict Barbie's make-believe journey from Barbie Land to the real world. It was not intended to make any type of statement."
Margot Robbie is perfectly cast in the title role. She embodies the Western ideal of physical perfection. She shows herself in a comical way through excellent timing. The movie is full of subtle and less subtle criticism of the lives of real people today. Sometimes I was amazed at how much space they were given by parent company Mattel to mock the Barbie brand, and the company as a whole. But plastic is fantastic and, above all, very fun, and refreshing. A hilarious film that celebrates the resilience of women and peels back the alpha layer from men. With a healthy dose of self-mockery. The ending may not be bittersweet, as Ken and Barbie find their way autonomously. Ken staying in Barbieland, and Barbie becomes human.
Kenough!
Rating *****