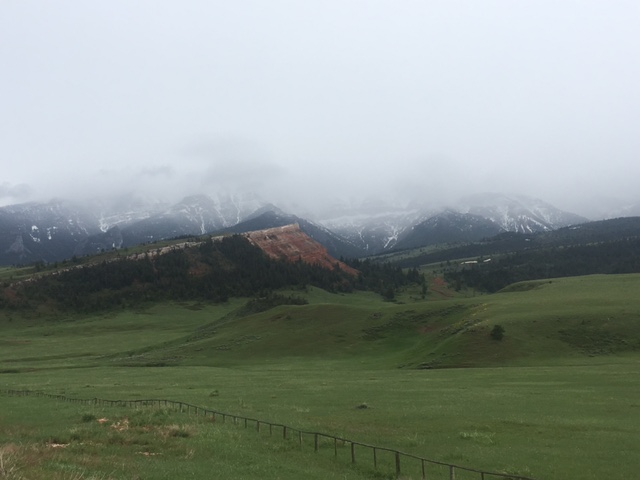 For one of our many daily excursions throughout this trip, we drove out to Cody, Wyoming. The drive there itself was just as beautiful as the landscape of the final destination. Though Montana is widely known as "Big Sky Country" it's clear that it does not simply begin and end with Montana, the beautiful landscape stretched for miles especially in Cody where the city is in the valley with hills and mountains rising in the distance. When we first got to Cody, I assumed that it was going to be a small town with little shops and nothing around I would recognize from home. However, this was not the case, Cody had several recognizable amenities such as a Wal-mart and several fast-food restaurants, making it obvious that Cody is not behind the times. During a drive to the entrance of Shoshone National Forest, we passed many homes on large stretches of land on hillsides and in the valleys, blending in to the landscape, as you can see in the picture immediately below. We found this interesting because instead of homes being very concentrated with a few exceptions like they were in Jackson and Gardiner, these homes were very spread out across the landscape of the town. To be fair, this was a bigger city than either, but we still found it interesting that these homes were much more within the landscape in more remote areas than only around the main part of town. This most likely contributes to the high level of wildlife-human interactions that are seen in Cody, as will be discussed more below. Overall, our trip to Cody was an great experience that helped shape our views on many issues we have been researching during this trip, including our issue of trout and the entire class issue of wolves, along with aspects of human interactions and how we must deal with living so close to wildlife.
For our first stop in Cody, we headed to the Wyoming Game and Fish office to speak with Wildlife Biologist Tony and head "Bear Guy" Dusty. They gave us a presentation on the importance of their office and how the work to keep the number of human-wildlife interactions to a minimum. They also spoke on how important it was for the citizens themselves to help reduce these interactions by putting away feed for livestock and putting up fences to deter them. However, even if citizens of Cody do this, there are still likely to be bears or wolves that will make their way into neighborhoods and potentially kill livestock and damage property. If this does happen, Wyoming Game and Fish responds to calls about these wildlife and will react accordingly. For example, they will set a trap to remove the bear from the area and will then check it for a tag that has been assigned a number and will run it through their database to see if that particular bear has had previous interactions (if the bear is not tagged, they tag it and release it). From there, if the bear has had multiple "offenses" they must decide whether or not to take it back into its habitat away from the town or to remove the bear all together. The town of Cody has a very high level of wildlife-human interaction and Dusty recalled that when he first started working at Game and Fish he probably caught over 100 bears in his first couple of months. We found this to be an extremely large number, but after talking more with Dusty and Tony we realized that when you choose to live in a town so close to this type of wildlife, you get what you get. This is an everyday challenge that the citizens of Cody, as well as every other city and town surround national parks and forests, must face and adapt to if they want to protect themselves and the animals.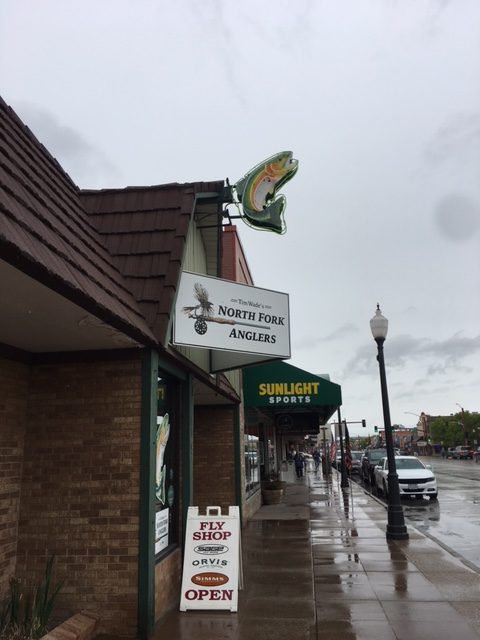 Our second stop in Cody was at North Fork Anglers where we met a professional angler, Tim. Tim moved to Cody over 30 years ago to pursue a career as an oil consultant but stayed for his true passion, fly fishing. Tim is nothing short of an educator for his clients and those in the community. He started three Trout Unlimited chapters within the surrounding counties and works to preserve and better their resources. In addition to a store filled with rods, reels and tee's, his company charters fly fishing trips. His main goal in his fishing trips and store is not profit from the money but to educate others on the importance of preservation and resources. He explained that he feels that "They (the wildlife) was here (in Cody) first and we are on their land," so it is important for him to not be intrusive to their natural habitats. His biggest education point is concerning the Lake Trout and explained the "catch kill" policy regarding that fish. The policy states that if a Lake Trout fish is caught the fish must be killed before it reenters the water, which helps to preserve resources for the native Cutthroat Trout. Tim also explained to our pack how the trout from a fish hatchery can effect the naturally hatched fish. Because the fish from the trout hatchery are dependent on humans for their food source they become extremely social fish. When they are reintroduced to the rivers for restocking, the naturally hatched fish become stressed by the hatchery fish as social beings. Tim explained the naturally hatched fish as beings, "just as wild as the river they swim in." Which is why he educates others on how humans can have a great effect on wildlife, even if they are trying to be proactive by restock rivers.