DOWNLOADABLE IMAGES
These images are available to download.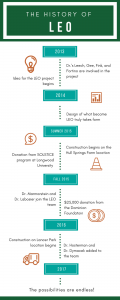 History of LEO Infographic (800 x 2000 pixels, 96 dpi)
If you are interested in using one of these images in your research or presentation, you may do so under the Creative Commons license CC BY-ND 4.0.
All images © 2018 Longwood Environmental Observatory.