The city of Santiago de Compostela has its own hidden gem: Old Town. This is the center of the city where most (if not all) of the major historical events have occurred throughout history. Within the confines of this area lies several significant buildings, of varying architectural styles, resulting in a remarkably preserved and gem of a city that was named a World Heritage Site by the UNESCO in 1985.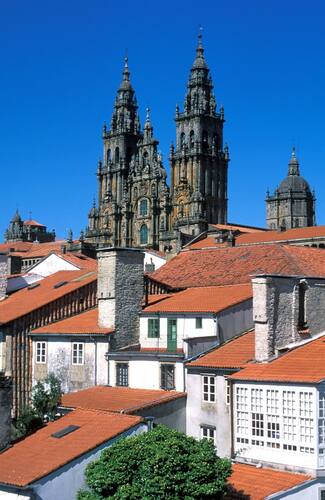 The important features of the town include the Santiago Cathedral, the Obradoiro, the Quintana, the Azabacheria, the Platerias, and a multitude of other buildings such as museums and old homes/businesses.
The Obradoiro, Quintana, Azabacheria, and Platerias are the four squares that are situated around the Cathedral. Each one faces a different architectural style of the city and Cathedral. These architectural styles include Romanesque. Baroque, Gothic, Renaissance, and Neoclassicist.
The Cathedral is the big form of Romanesque architecture in the city while the Baroque western façade of it is considered the be the "authentic symbol". This side faces one side of Obradoiro square and is the side that has the incredible display during the St. James Festival.
Other fascinating architectural features of Old Town is the combination of influences from outside the region (as mentioned above) with the traditional Galician materials and galleries. Over time, dominant architectural styles have shown their influence and reach in cities all over Europe and the world that end up mixing with the styles of local areas, producing this amazing mix of fascinating and bold with old school and local.
The roads throughout this section of Santiago de Compostela are not made for cars, rather they are still very dependent upon walking around and it is more common to see cobblestone roads and paths than it is a vehicle while going through town. If you decide to visit Old Town, it is best to block off at least one day, if not two (or more!), in order for you to fit as much as possible in the time you have.