Jessica
This user hasn't shared any profile information
Posts by Jessica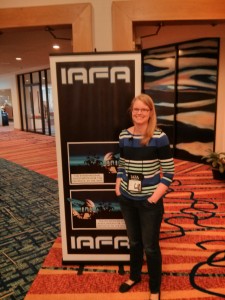 Last week, I had the opportunity to attend the International Conference for the Fantastic in the Arts in Orlando, Florida. Described by a friend as "ComicCon for scholars," ICFA is an academic conference for the study of science fiction, fantasy, and horror. The conference offers a wide range of panels, author talks, and book signings. At this conference, I presented a paper with the Children's and Young Adult Division titled "The Problematics of Magical Girl Feminism."   My paper discussed magical girl manga such as Sailor Moon, and explored the ways that these texts attempt to portray empowered female characters while really just reinforcing traditional ideology about women. The paper was a real joy to present, and appeared well received by those in attendance.
During the rest of the conference, I attended a wide range of panels, from "Buffy, Star Trek, and Pedagogy" to "Science Fiction Fan Worlds." I saw friends and colleagues present on Disney and body image, tomboys in Anne Radcliffe's Gothic novels, and video games and urban legends. Perhaps one of the most meaningful panels, "Teaching Science Fiction and Fantasy in Community College," brought together three scholars to discuss their experiences incorporating genre fiction into their community college classrooms. As I prepare to go on the job market with the hopes of securing a teaching position at a small university or community college, their insight was invaluable. Besides the scholarly panels, I attended a lovely reading by Peter Straub, had a copy of Steven Erikson's Willful Child signed, reunited with some friends from Longwood and Hollins University, and spent far too much money in the book room.
The first time I presented at ICFA as an undergrad, I came home with thoughts of building a career in academia. This trip has reminded me why I felt that way. While science fiction, fantasy, and horror are becoming more prevalent in popular culture, there is still a stigma associated with studying those fields from a critical perspective. ICFA is an opportunity to not only enjoy time with other scholars who share my interests, but to see their success stories. All of the people I met have built careers pursing a field of study that I am passionate about, and being immersed in their work reminds me just what a meaningful pursuit genre studies really is. Science fiction, fantasy, and horror explore humanity's wildest dreams and darkest fears. They reflect who we are and imagine who we could be. On days when I feel unsure about the field of study I've chosen, opportunities like ICFA remind me why I do what I do, and why I never want to stop.
-Jessica Stanley
Jessica's RSS Feed