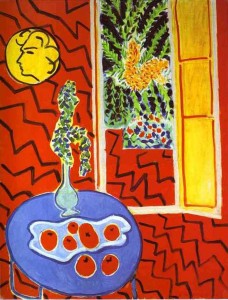 An art review from the NYT:
"Matisse: In Search of True Painting" at the Metropolitan Museum of Art, is one of the most thrillingly instructive exhibitions about Henri Matisse, or painting in general, that you may ever see. As ravishing as it is succinct, it skims across this French master's long, productive career with a mere 49 paintings, but nearly all are stellar if not pivotal works.
Organized at the Met by Rebecca Rabinow, a curator of modern and contemporary art, this exhibition, sheds new light on Matisse's penchant for copying and working in series. (It was seen in somewhat different versions at the Pompidou Center in Paris and the National Gallery of Denmark in Copenhagen.) To this end, the paintings proceed in pairs or groups aligned by subject: two still-life arrangements with fruit and compote, from 1899; two versions of a young sailor slouching in a chair, from 1906; four views (1900 to 1914) of Notre Dame seen from Matisse's window across the Seine; three portraits (1916-17) of Laurette, a favorite dark-haired model, seen from various distances in a voluminous green robe from Morocco.  Continuez.