Community service is very important to me and I am so glad that I was able to participate in so many service opportunities throughout my first year at Longwood.
My first service project that I worked on while at Longwood was during the Fall semester during which I volunteered at the Southside SPCA Fall Festival. This event was an opportunity for people to donate money to support the SPCA and for some wonderful animals in need of a good home to be adopted. I went with a group of Honors students and had such an amazing time setting up the tents, selling popcorn, and spending time with the animals. This event also allowed me to get closer to my fellow Honors students.
Throughout the rest of the year I worked on several other service projects as a member of the national service fraternity Alpha Phi Omega. Being a part of  this organization has allowed me to meet so many wonderful people and to participate in service opportunities such as tutoring children, Relay for Life, and Merit Badge Day 2019.
I am so thankful for the Cormier Honors College for getting me started on my journey of service here at Longwood and for Alpha Phi Omega for helping me continue on that journey.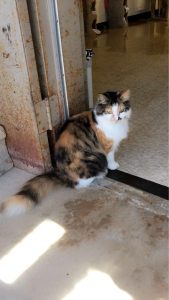 In the Cat Room, SPCA Fall Festival (2018)