Being a part of the Cormier Honors College here at Longwood has truly made my first year here amazing because of the community within it. We began the year with the Honors Retreat which allowed the new students to get to know one another and for friendships to form. I even met one of my closest friends and future roommate on the first day! Throughout the retreat we were able to settle into the idea of being away from home with a group of who people did absolutely everything they could do to make us feel welcome at Longwood. That is Honors.
While I had the wonderful opportunity to join the Honors Student Association during my first semester, I still wanted to get more involved on campus and one of my close friends in honors helped make that happen. Together we decided to rush the national service fraternity Alpha Phi Omega and it was one of the best decisions I have ever made! I love all of the opportunities for service in the community and being able to meet so many incredible people. Not a day goes by that I don't see a friendly APO face on campus.
Honors has brought me some of my best friends and has allowed me to get more involved in the community that is Longwood University.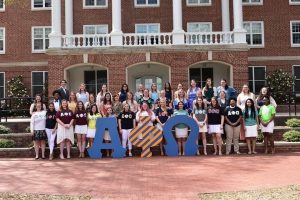 Alpha Phi Omega Induction, Spring 2019