Everyone loves Frozen. One sister races after the other to save her and the guy gets the boot in the end. Wow, I love the 21st century vibes. We've brought ourselves into this mindset that advertisers, T.V. shows, and movies alike are looking to transcend old-fashioned views of gender roles, but is that really the case? Have we actually turned Sally-homemaker into Travis-cooks-a-casserole?
Travis-cooks-a-casserole played by Spongebob Squarepants [https://wgst303.wordpress.com/2013/01/23/gender-roles-in-media/]
In the past few years, attention to gender roles has increased. Even in current T.V. shows and movies gender roles are present. In the popular T.V. show The Big Bang Theory, the SINGLE female role is the "stereotypical female: the ditzy, attractive neighbor, who existed solely to create sexual tension between herself and one of the show's leading men". It doesn't stop there. Almost 100% of Americans own a television in their household. These roles are wide-spread and growing despite the 21st century vibes. We can do our best to hope for more Frozen's and Maleficent's, but what the public wants is what the public gets.
"[M]y cousin says that she's

never affected by infomercials…"
Speaking of the public… no one wants to be responsible for their lack of originality. No one wants to come to terms with being average. This is the case of third person effect as explained in Gendered Lives by Julia T. Wood. This is incredibly prevalent in today's society that it was given its own name. This effect is  caused by people believing that they are immune to advertisers persuasion, but that it affects everyone else. For example, my cousin says that she's never affected by infomercials, yet she has a nutribullet and one of those core workout chairs. Last time I checked, it was women who were making and drinking those smoothies in the commercial.
An important aspect of gender in the media is recognized through the Bechdel Test. This test can be applied to any movie, but not all pass, actually, very little pass. The test follows three questions:
1.) Are there two or more women that have names?
2.) Do they talk to each other?
3.) Do they talk to each other about something other than men?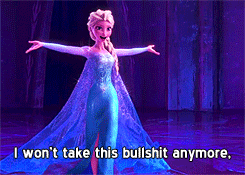 It doesn't matter what a person says about how good they are at avoiding the public eye, it will find you, and it will consume you. The third person effect has it's own name for a reason. It's probably about time that a man became the damsel and a woman became the heroin… oh and when that happens, make sure she's not in love with any of them at any point in the movie cause that seems to happen a lot. I PROMISE DIRECTORS…  NOT ALL OF US CARE.