CGPS Handing out Candy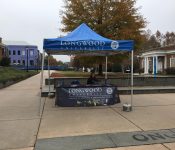 Yesterday, two graduate assistants for the College of Graduate and Professional Studies, Jessica Morris and Rachel Pegelow, passed out candy on Brock Commons to the undergraduate students.
The reason? To get the word out about Longwood's graduate programs and plant the seed of considering graduate school when the time comes for those students.
In true Longwood fashion, though it was cold, the students who stopped to take some candy also stopped to talk about what we were promoting and many seemed genuinely interested in the graduate programs.
Many students are not aware of the number and type of graduate programs Longwood has to offer. Jessica and Rachel handed out informational flyers about CGPS, and candy, to all passerby's that day and are hopeful to have given some students a reason to consider graduate school.