Coffee. Cookies. Death.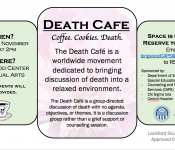 This month, Longwood's Department of Education and Special Education, Counseling and Psychological Services (CAPS), Chi Sigma Iota, and Centra Hospice are sponsoring a Death Cafe on November 18th. The Death Cafe is a worldwide movement dedicated to bringing discussion of death into a relaxed environment. The Death Cafe is a group-directed discussion of death with no agenda, objectives, or themes. It is a discussion group rather than a grief support or counseling session.
This event will be held November 18th at 2pm at Longwood Center for Visual Arts (LCVA). Refreshments will be provided. Space is limited. Reserve your seat by emailing longwoodCAPS@longwood.edu.