Health and Physical Education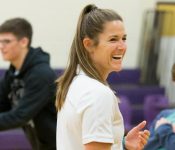 This week, we're focusing on Longwood's Health and Physical Education Master's degree program. This program can be finished in one year (full-time) or two years (part-time). Courses are offered online, over the summer, and in the evening during the fall/spring semesters.
Students complete a five-credit internship in a school or community setting. Upon graduation, students are eligible for the Virginia Postgraduate Professional License. Graduates take many different career paths including teaching in K-12 schools, coaching, working with community health organizations, managing parks and recreation departments, and serving as health advocates.
Visit http://www.longwood.edu/education/health-and-physical-education-ms/ to find out more about requirements and how to apply!