Graduate Student Association Paint Night!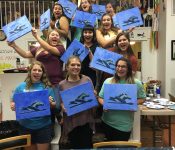 Last week, 15 graduate students met at Red Door 104 to paint the Longwood Lancer! Red Door 104 provided students with aprons, canvases, paint, and brushes. Students from various programs including Counselor Education, Speech-Language Pathology, Reading, Literacy, & Learning, and Special Education were all in attendance. The Graduate Student Association is planning to host another Paint Party in the spring. All members of the graduate community are welcome and we look forward to seeing you there!
Share your thoughts, post a comment.