Communication Sciences and Disorders Program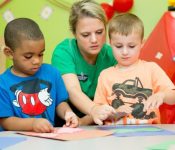 Next on the list for graduate program spotlights is the Communication Sciences and Disorders graduate program!
The CSD graduate program is a two-year program, with 44 students in the program, broken into 22 each year. The students will be certified to work with clients of all ages in the "Big Nine" areas including: Articulation, Fluency, Expressive and Receptive language, Cognition, Voice, Hearing, Social aspects of Communication, Swallowing, and Augmented & Alternative Communication.
The first-year students are taking classes full time, while also working with clients at the Speech Hearing and Learning Services (SHLS) clinic, located on West 3rd street. The students are supervised by members of the faculty during the planning and delivery of evaluations and treatment sessions. The students also conduct speech screenings for local elementary schools. During the summer, students take classes while also working at various camps put on by SHLS for children in the surrounding areas.
In the spring, the students present research at the annual SHAV convention (Speech-Language-Hearing Association of Virginia). This past spring Longwood students took home 1st, 2nd, and 3rd place at the conference, competing against graduate programs across Virginia, and doctoral students.
The second-year students are on campus from August through mid-September, acting as mentors for the new class, and taking classes during that month. After mid-September, the second-year students leave Longwood to work at their externship placements.  The students gain experience working with adults and children during their externships. Many students return home for the spring semester.
The CSD program also offers a 3-year course for students coming into the program with an alternative Bachelor's degree. These students take undergraduate pre-requisite courses and two graduate courses their first year, and then are full time graduate students their second and third years.
The employment rate for the CSD graduates is 98.67%, with about half employed in education settings with children and half in medical settings with adults.