Longwood University MBA Program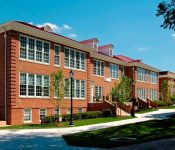 This week is another spotlight on one of Longwood University's graduate programs: Masters of Business Administration Degree, or MBA.
This program offers both a General Business and a Real Estate concentration, full time and part time to meet many student's needs. There is also a unique track to this degree, Longwood's MBAdvantage dual degree program. This program gives students in the College of Business and Economics and the Cook-Cole College of Arts and Sciences the opportunity to receive a bachelor's and master's degree in five years.
Currently there are 7 full-time General Business students, 19 part-time General Business students, and 1 part-time Real Estate student.
Careers we can expect to see students graduating with a Longwood University MBA enter include:
Marketing Directors
Directors of Operations
Financial Analysts
Project Managers
Human Resources Directors
Commercial and Corporate Realtors
Longwood's MBA also offers a Leadership Education and Development (LEAD) program, which student complete along with their regular coursework. This program focuses on leadership development through knowledge, experience, and reflection, with a focus on leadership, values, and ethics. Students who complete the LEAD program earn a Certificate of Leadership from the SNVA Institute for Leadership and Innovation.
This year's MBA students had the opportunity to apply for the SNVC Institute for Leadership and Innovation 2017-2018 MBA Scholarship. The recipient of this year's scholarship is Alex Lee. Alex Lee has shown great leadership skills through her multitude of involvement during her past four years at Longwood University.