Oh the Places They're Going!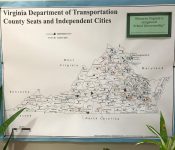 "The more that you read, the more things you will know. The more that you learn, the more places you'll go!" – Dr. Seuss. After graduation, school librarianship students from Longwood University find jobs all across the country, while many graduates stay here in Virginia. Recently, the program coordinators have assembled a map in Hull to show where these graduates are working. Currently, there are graduates in almost every county in northern Virginia, some as far east as Poquoson, and others as far south as Martinsville. How far will the Class of 2017 go?
Share your thoughts, post a comment.