Crossfit with the Dean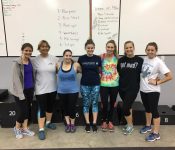 On Monday November 14th, 2016 the GSA hosted its first annual Crossfit with the Dean! The dean of the College of Graduate and Professional Studies, Jeannine Perry, welcomed the GSA to join her at Crossfit 1st Due. Perry is a regular member at the gym and wanted to share her love for crossfit with all of the graduate student body. Meredith Peck, GSA's past president, also attended Crossfit 1st due and planned the event with the dean. They thought it would be a great way to share one of the ways they have fun working out with graduate students while also contributing to GSA's goal of building a strong graduate student community.
The event lasted for an hour, beginning with a basic introduction to a crossfit warm-up. After the initial round of squats and lifting weights, the students got to have some fun crossfit style. They split into two teams and were each given a large foam die. The dice were thrown across the gym and the number that was "rolled" corresponded to the workout that had to be done (e.g. 4 means box steps or 6 means squats). When the entire team completed the exercise, the score was recorded on a white board. After 30 minutes the teams were told to stop and the scores were tallied. Some of the graduate students who attended expressed nervousness at the beginning, they were worried about the workout being too hard or not being able to keep up. By the end of the workout, everyone was very happy they attended and did not feel left behind or discouraged from the work out at all.
The GSA finished the event by giving away a few prizes. The prizes ranged from CGPS padfolios to a free 3 month crossfit membership. Georgia Skipper, GSA's vice president, won the membership to the gym. This event began a series in the spring semester hosted by the GSA called "Fitness Fridays" over the course of which the GSA took part in yoga, ballroom dancing, and zumba. The GSA plans to host this event again during the Fall 2017 semester.