December Graduation Reception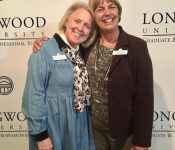 On Friday, December 2, 2016 the Graduate Student Association (GSA) and College of Graduate and Professional Studies (CGPS) hosted the first ever December Graduation Reception. This reception was hosted to honor and recognize all of the August and December graduate degree recipients. The GSA and CGPS thought this was an important event to host because many of the graduates from August and December are not able to come back in May for the full commencement ceremony. By holding an event like this, the attending graduates were able to celebrate with family and friends and receive the recognition they deserved. The event was held at Charley's and the graduates were encouraged to invite all those that they believed would want to celebrate with them. The graduate students, family members, friends, Longwood graduate faculty, and GSA officers were all in attendance to celebrate all of the graduates' accomplishments. During the reception, graduates were given a wooden Longwood ornament, had their names and earned degrees recognized, and were able to try on graduation regalia for pictures. The GSA and CGPS wants to wish all of the August, December, and May graduates the best of luck as they move onto whatever the next adventure in their lives hold!
Share your thoughts, post a comment.