Graduate Student Association: Newsletter Initiative and Website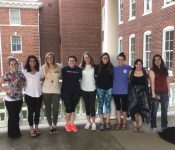 This year, the Graduate Student Association (GSA) had a whole list of activities and strides made towards better serving the graduate student population. Two of the new developments that came from the organization were the release of monthly newsletters and the publication of a website. The first newsletter was released in November 2016 and there has been one edition released every month since. The newsletters provide information on the GSA and keep readers informed of the events that have been held in the previous month. Additionally, the newsletters have a calendar of upcoming events listed on the back so all readers can know when and where the current and next month's events are. They are created and updated by GSA's president, Brittany Bishop. Newsletters are distributed on Facebook, to graduate program coordinators, and released via canvas. They have also been posted for review on GSA's new website.
GSA's new website was created in April and serves as a central location for all information for the GSA and links for graduate students. It features a homepage where users can click on links to other pages including an About the GSA page, Calendar and Events, News, Forms and Resources, and Contact. The About page allows users to read the mission of the GSA and introduces the executive board. The Calendar and Events page has information for upcoming events, pictures from past events, and hosts the calendar for the current school year. The newsletters are all hosted on the News page and users can click on the pictures of each newsletter to read the front and back. The Forms and Resources page is the most useful for all graduate students. This page contains several links to important information. The first opens a page to information on requesting funding from the GSA, a new initiative introduced to help graduate students fund professional development opportunities not covered by travel grants. Other linked resources include the Graduate Canvas page, College of Graduate and Professional Studies main page, Graduate travel grants information page, Graduate spotlights blog page, graduate travel blog page, student resources page, and graduate assistantships page. The last feature on the website is a Contact page where students can find phone numbers and the e-mail address for the GSA and can fill out a form to contact the GSA with any questions. The GSA hopes that the website will help increase involvement in GSA meetings and events, provide students with easy access to the most useful resources they need as graduate students, and show promote graduate studies and community at Longwood. The website is www.longwoodgas.com and is active now.