Graduate Student Georgia Skipper Reflects on the 2016 VP Presidential Debate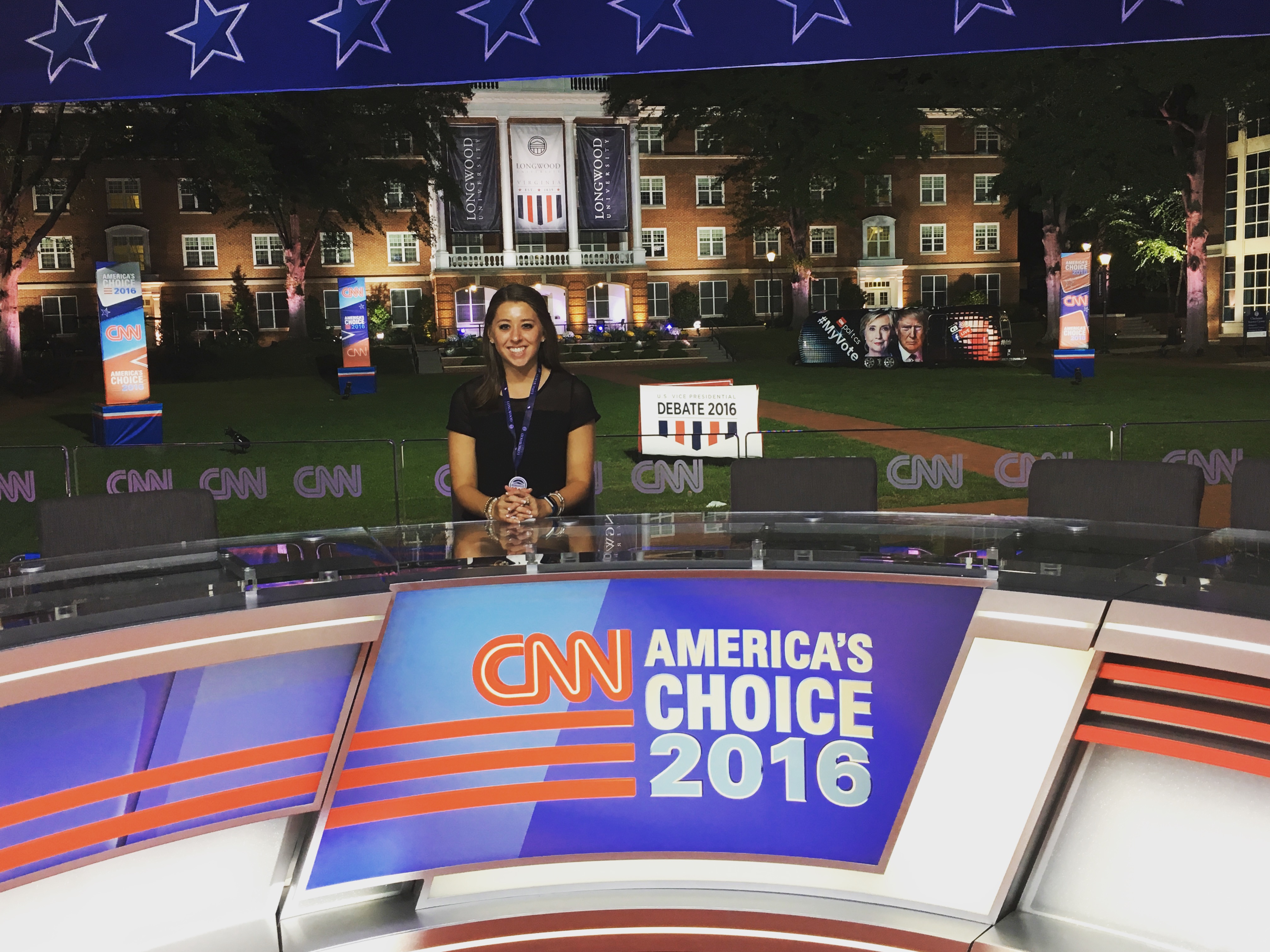 "When I heard the VP Debate was going to be hosted by our University I was so excited. The University sent out an email asking for student volunteers, and I knew I wanted to help out! I had to fill out a short application which included information about myself and answering a few questions. I was given my placement and asked to apply for extra credentials. I knew that meant I would be given special access to buildings, thinking maybe I would help set up or work with security. Little did I know I would be volunteering in the actual VP Debate!
My role was an "Emergency Photography Disk Runner." I also volunteered at the entrance of Stubbs Mall in the days prior to the debate. Myself and five other girls were assigned as Emergency Photography Disk Runners and asked to be present in the Debate Hall in case the Internet went out. Camera's are able to transport pictures and videos via wifi, but I was volunteering as back up in case wifi went out.. I was told to wear all black, as I would be walking around transporting Camera disks during the debate! Although our boss, Jeff, assured us that wifi was working fine, and we would most likely get to watch the debate! I was sooo excited for the opportunity and more than happy to volunteer to help!
Right as the debate began I was told I was needed as a runner! This was very exciting because I didn't think I would be needed because wifi had been looking good! I was told to stand by the Richmond Times camera man and get his memory disk directly after the handshake between the two candidates. I was nervous because there were so many media personnel and no way to tell exactly which one was the Richmond Times! Everything turned out great, and I was able to transport the disk to the black room to the news editors perfectly!
I loved having a part in the VP Debate and am so thankful for the amazing opportunity! I thought the debate was incredible. The two candidates were very quick and knowledgeable, and both had strong responses. After the debate I was able to shake the hands of both candidates. I was also able to take a picture with Tim Kaine! My credentials also allowed me to enter the circuit room after the debate which was also very exciting! All week I enjoyed walking around watching the fences, stages, news channels and tents go up. During my time as a volunteer I learned a lot and met many new friends in the process! I'm so proud of our University and enjoyed every minute of this week! I am so thankful to our University President for successfully putting together and pulling off such an amazing event. We are lucky to have President Reveley, and I don't think the VP Debate coming to Longwood would have been possible or even happened without him. "
Written by Georgia Skipper, current graduate student in the Reading, Literacy, and Learning program. Way to go, Georgia!