Leah Utz- Graduate Assistant for Longwood University Career Center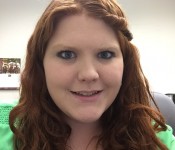 Leah is a student in the Master of Education – Reading, Literacy and Learning program and a Graduate Assistant in the Longwood University Career Center. As a GA, Leah's work focuses largely on marketing for the office. In addition to working with the Career Educators, she often creates flyers, organizes events, and is frequently out on campus increasing exposure for the Career Center. Leah also helps create videos on career exploration and preparation for the office.
Leah conducts walk-in hours and contributes to job fairs and other events the Career Center holds. She believes that her experience as a Graduate Assistant is helping her to develop professional skills which she hopes to one day use in a classroom. Her position has fostered her communication skills and confidence as well as enhancing her teaching and counseling skills through appointments with students. Leah loves working one-on-one with students and using her knowledge to help them. She has also expanded her understanding of marketing and outreach and has developed more creative skills. In addition, the position has deepened her experience working in a team environment and has allowed her to plan large-scale events. These skills well help her to grow as a professional and will benefit her teaching. The assistantship has given her the opportunity to travel to different companies and network with many individuals in the professional world, and she is very thankful and honored to work for this office.