Alumna: Cheryl Crews- Health and Physical Education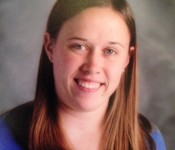 Cheryl Crews graduated from Longwood with a Master of Education in Health and Physical Education. She was named Graduate Student of the Year for the Virginia Association of Health, Physical Education, Recreation and Dance (VAHPERD) at the VAHPERD convention in Roanoke, Virginia in 2012. During her time in the graduate program, Cheryl was a graduate assistant for the Physical Education department assisting Tena Ewing with PHED 101 classes and teaching KINS 150.
In the Spring of 2014, Cheryl was asked to teach KINS 150 again at Longwood. She currently works for Appomattox County Public Schools and is in her second year of teaching. She has frequently been asked to teach more classes at Longwood, and she has agreed to teach two more courses during the Spring of 2015.
With the help of Dr. Colvin, Cheryl was able to get in touch with QuickStart Tennis of Central Virginia and set up a tennis training with USTA for all Physical Education teachers before school started. One of her contacts, Lynda Harrill of QuickStart Tennis, wrote a grant for Appomattox County to receive tennis equipment, and through the Walter J. Payne Foundation, they received tennis equipment for 4 schools.
Several months ago, Dr. Colvin contacted Cheryl about painting a United States map on the blacktop at the school where she works. The honors fraternity, PEK, took part in a service project and painted the map for students to enjoy. Cheryl credits Longwood for the opportunities that she has been given, and she is glad she can continue to be a part of the University!