Meredith Peck
This user hasn't shared any profile information
Posts by Meredith Peck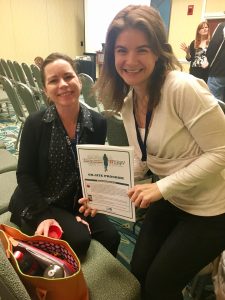 I had the opportunity this past week to attend the 2017 Speech-Hearing-Language Society of Virginia (SHAV) Conference: "Every Day Leaders Lifelong Learners." This is my third time attending the state conference for speech-language pathologists, and every year reminds me why I chose Longwood University. The professors encourage us to become active in the professional community and lead by example. They all attend and many present every year. I am confident when I enter the field that they will be there to support me at community events, such as the SHAV conference.
.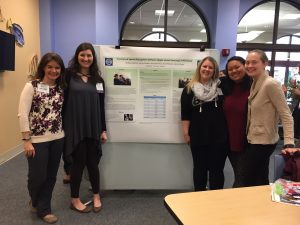 Thanks to the CGPS travel grant, I had the pleasure of both attending and presenting during the poster session of the the second annual AT Symposium CollaborATe: A Transdisciplinary Approach to Assistive Technology through the Lifespan at VCU's Children Hospital of Richmond. I learned about various costs, uses, and implementation of assistive technology as well as listened to consumers of that technology. I met many individuals from the field of speech-language pathology who I admire and who offered helpful advice for my professional future. Additionally, I presented research from a collaboration with my peers in which we compared the text-to-speech software of an Apple and a Samsung device. The project bolstered my understanding of the research process and gave me further presentation experience. I am grateful to have the had the opportunity.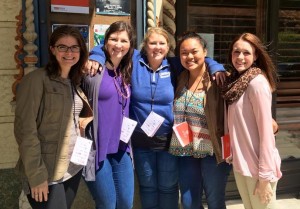 I had the opportunity to attend TED x RVA on Friday with four fellow graduate students here at Longwood University.  This year's conference theme was "Artful."  Speakers spoke for a maximum of 20 minutes each, all applying art to their interests and professional careers.  One of my favorite stories came from an audience member who placed a big table in her front yard of downtown Richmond and has added a sense of community to the neighborhood, as everyone gathers around the table regularly to socialize.  It was refreshing to see the importance of finding a sense of art in all aspects of life, and I loved how these talks applied to all of us in the audience, whether in graduate school or a career.  Furthermore, I loved seeing how these talks applied to individuals in a variety of graduate programs here at Longwood.  It is always fascinating to see the power of interdisciplinary collaboration.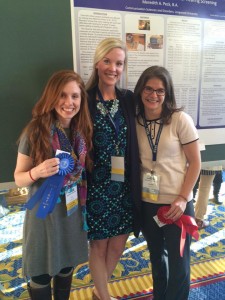 I enjoyed my time at the 2016 Speech-Hearing-Language Association of Virginia in Chantilly, VA. I attended informational sessions in the areas of literacy, fluency, articulation, and dysphagia. It was wonderful to gain the latest research in our field from the experts. I will use this new information with future clients. In addition, I enjoyed speaking with so many professionals who are passionate about the field of speech-language pathology. It served as a great networking opportunity and reassurance of my journey while in graduate school. Lastly, I participated in the student research portion of the conference and was awarded second place. I appreciated the opportunity to speak about my personal experience in research and receive recognition. Ultimately, I was able to attend the conference in with the help of this travel grant. Thank you to the College of Graduate and Professional Studies.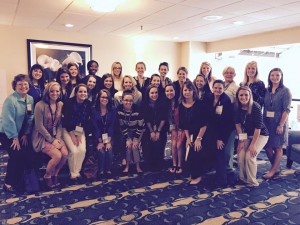 I attended the 2015 Speech-Language-Hearing Association of Virginia Conference on Thursday, March 26, 2015. It was my first conference as a graduate student at Longwood University, and I was grateful for the opportunity to attend. I was lucky enough to learn about communication apps and devices currently available. I then listened to a presentation about the effective use of interpreters in the field. Next, I found out information about feeding therapy for children who are "in the gray," those children that are on the line of qualifying for speech services. Finally, I attended a session that taught speech-language pathologists how to use structured teaching to build communication in students with autism. I really enjoyed meeting a number of speech-language pathology professionals, and I look forward to attending the 2016 SHAV conference.
Meredith Peck's RSS Feed