Chelsie Pasley
This user hasn't shared any profile information
Posts by Chelsie Pasley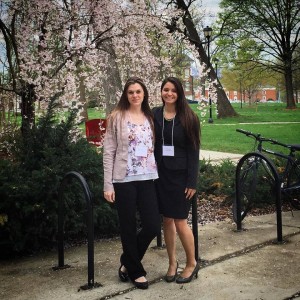 My experience at VSSA was extremely challenging for me. This was the very first conference I have ever attended where I presented my research to an audience. I have been to a few conferences in the past and presented during the poster sessions, but standing in the front of a room full of scholars and professionals was new (and scary) for me. Going to VSSA was a great opportunity and I am so glad that I pushed through and presented my research even though I was nervous. I highly recommend VSSA as a first presentation conference for young scholars. The people were extremely friendly and you truly feel support from everyone there.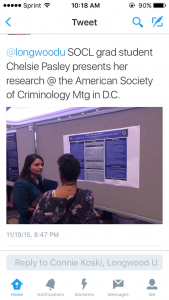 Although attending ASC 2015 Annual Conference was not my first experience at a conference, it was by far my favorite! The mere size and attendance was overwhelmingly large but very enlightening. I loved being able to attend the many presentations and also present my current research at the second poster session! Having leading scholars stop by my poster was extremely nerve wracking, however, also very exciting! I was able to talk to many people around the United States, as well as meet a researcher from Toronto, Canada. Sharing our experiences about our current research and our future plans was so nice and we plan on meeting up at our next conference!
I think its extremely important to step out of your comfort zone and travel to such conferences because they allow for you to feel a sense of independence in a way you may not otherwise experience. Coming from a small town lifestyle and a very protective set of parents, while I was always encouraged to follow my dreams I never actually felt the independence of going away to school; this conference changed that for me. I believe conferences are a great way to create connections and build relationships with scholars in your field of interest, while also exposing you to the importance of doing research.
ASC was so much fun for me and I owe a big thanks to Dr. Connie Koski in the Sociology, Anthropology, and Criminal Justice studies department for pushing me, challenging me, and being there for me throughout my undergraduate and graduate career at Longwood! Had she never come to Longwood, I am unsure I would have ever pursued independent research that brought me to ASC!
Overall, attending this conference is something that I can take with me for the rest of my life; in experience, knowledge, and academic credentials on my resume and I am so thankful for such an opportunity!
Chelsie Pasley's RSS Feed