2016 SHAV Conference, Reflection by Meredith Peck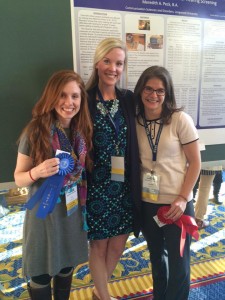 I enjoyed my time at the 2016 Speech-Hearing-Language Association of Virginia in Chantilly, VA. I attended informational sessions in the areas of literacy, fluency, articulation, and dysphagia. It was wonderful to gain the latest research in our field from the experts. I will use this new information with future clients. In addition, I enjoyed speaking with so many professionals who are passionate about the field of speech-language pathology. It served as a great networking opportunity and reassurance of my journey while in graduate school. Lastly, I participated in the student research portion of the conference and was awarded second place. I appreciated the opportunity to speak about my personal experience in research and receive recognition. Ultimately, I was able to attend the conference in with the help of this travel grant. Thank you to the College of Graduate and Professional Studies.
Comments are closed.