*This blog is meant to be published this sunday 10.14.12. I will not be around a computer that day that is why it is a little early.
A culturally conditioned assumption is when we use the thoughts and beliefs we have been molded to view in our particular culture, and we use those assumptions in our views of certain subjects. We may or may not be conscious of when we do this, since we do it with everything we encounter. It is not our fault; it is literally ingrained into us. At some point we have to take a step back and analyze whether we have taken it too far or not far enough.(Lazere)
The example I have decided to use is my society's (Northern America) view on body image, specifically women. Since I have been blogging about women and men learning about healthy relationships. I figured that having a healthy relationship with your body image is also something many if not most women struggle with. I personally have a constant battle with going to the gym, and wanting the tasty slice of pizza for lunch. I normally end up eating that pizza, but regretting it and running a couple miles at the gym. This craving is normal and almost every person loves unhealthy food.
There has been only one point in my life where I remember loving the way I looked. When I was a senior in high school I had lost 15 pounds for prom. I was ecstatic that I knew I could accomplish that. But I did it the wrong way. I never went to the gym or worked out; I just ate half of what I normally ate. I would make sure every night I went to bed hungry and never ate anything unhealthy. If I did eat unhealthy I only ate one bite of something unhealthy, literally, and then would proceed to eat vegetables and salads. At first I was going crazy but then when I saw the results; I became addicted to it. Three months after prom when I went to college I gained it all back and hated myself. I am in fact still not happy with my body weight, and I eat quite healthy and exercise 3-4 times a week. With a society that markets size 0-4 women as the ideal body type, it is hard to be happy.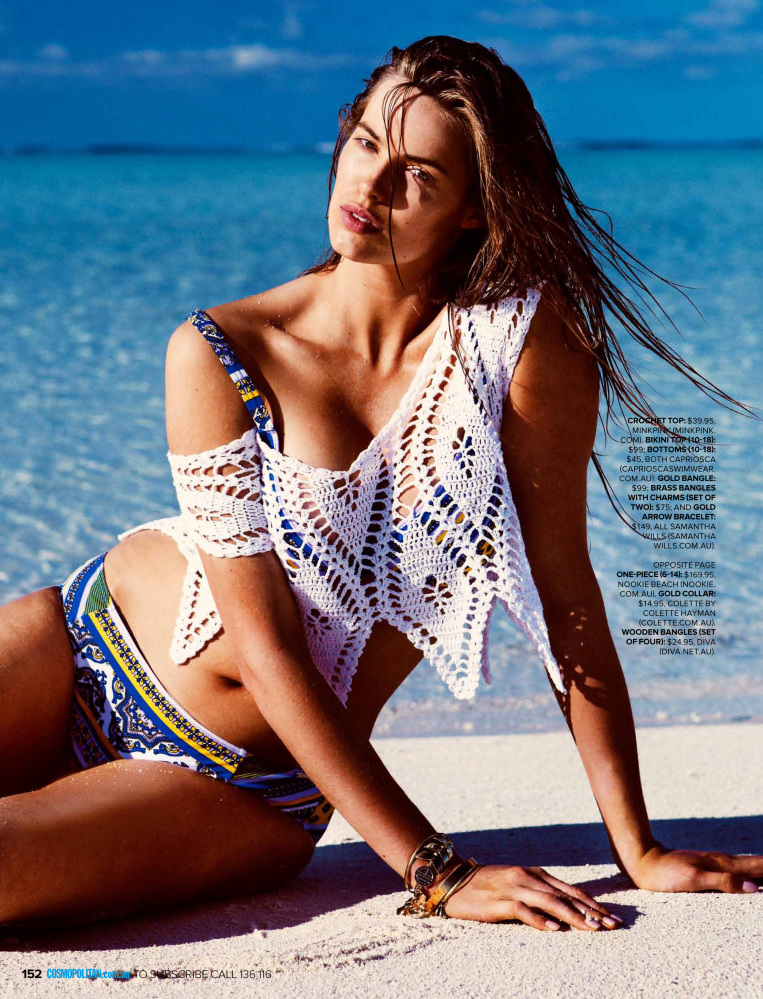 Photography: Steven Chee / DLMStyling: Nicole AdolpheHair and Make-Up: Rachael Brook / DLMModel: Robyn Lawley / Bella models
This is a problem; I am less than the average size for all American women (size 14-16) yet I hate the way I look?(Rebecca). This doesn't make sense. After reading Lazere explain culturally conditioned assumption it made sense, we are culturally conditioned to believe that skinny is good and having a little stomach pudge is bad. I am not advocating for everyone to be obese I am actually doing the opposite. I believe we need to find a balance between indulging every now and then, eating healthy and exercising regularly all while having a better self body image.
The following is an article from Time online magazine illustrating this exact problem.
"According to a study published in the journal BMC Public Health, children as young as 10- and 11-years-old already have notions about the ideal body. An analysis of more than 4,000 students from Nova Scotia revealed that young girls' happiness with their body image is directly linked to how thin they are. Boys, on the other hand, were happiest when they were neither too lean, nor too heavy.
Given that dissatisfaction with body image is strongly linked with an increased risk for eating disorders, the researchers were particularly concerned to find that the perception of perfection began at such a young age. Overall, 7.3% of the girls included in the study reported that they didn't like they way they looked, but that increased proportionately as girls' weight, measured by body mass index (BMI), went up. For girls with normal body weight, 5.7% reported being unhappy with their bodies, among those who were overweight, 10.4% did, and among girls who were categorized as obese, 13.1% were unhappy with how they looked. For girls, the researchers noted, every one unit increase in BMI measurement indicated about an 8% increase in body dissatisfaction. (Tiffany)
Previous studies have shown that early, school-based intervention to teach children about healthy body weight and body image have actually achieved some success. Considering the prevalence of childhood overweight—which now effects a third of American children, and more than a quarter of Canadian children—understanding how kids perceive themselves, and helping them to build confidence by building healthy behaviors may be vital not only for combating the obesity epidemic, but also diminishing its concurrent health problems, which range from diabetes to depression. (Tiffany)"
This perfectly describes the effects of the ideal image that society is forcing on us. It is not healthy for girls as young as ten to not be happy with their bodies especially since they are still growing and developing
Our society has gone through its ups and downs of what is considered beautiful, from tiny waist to more voluptuous and curvy. But I believe if you are healthy, then that should be beautiful. We are only human; we need to feel beautiful and shouldn't be restricted by an unrealistic society.
I will end on a happier note with an article I found today. Hopefully we will see more models like the one below promoting healthy bodies instead of rail thin frames. Almost all the people who comment on her pictures think she is beautiful and she is deemed "plus" sized yet she is the average weight for American women. This gives women an ideal type to aim for instead of being rail thin, instead of consuming too many calories and being obese. A healthy balance and a rise in self-esteem should be the goal for every girl and woman.
"After landing a major contract as the first "plus-size" model for Ralph Lauren last month, Robyn's latest gig for Cosmopolitan Australia takes her to the Cook Islands to model swimwear in the blue lagoon at Aitutaki. And we have to say, the Aussie model definitely knows how to work a bikini. (Ed. note: While it might seem bogus that a figure like Robyn's is deemed plus-size, that's the term the industry has afforded models size 12 and up.)
The 23-year-old "plus-size wonder from down under," as she's not-so-eloquently referred to by Good Morning America, has taken the modeling world by storm lately, landing major covers and serving as the face of Boux Avenue lingerie in addition to Ralph Lauren. When GMA asked about her exact weight, the Wilhelmina model responded, "Well, I'm a size 12, and I think weight doesn't really matter." Well said, Robyn! (Rebecca)"
Lazere, Donald. Reading and Writing for Civic Literacy. Brief Ed. Boulder: Paradigm Publishing, 2009. Print
The woman below is the same woman in the picture above. The above picture is showing the model at a more flattering angle and below showing her as more natural, not covering up her healthy "curves". She is a size 12, one size below the average size for American women, yet she is deemed plus sized.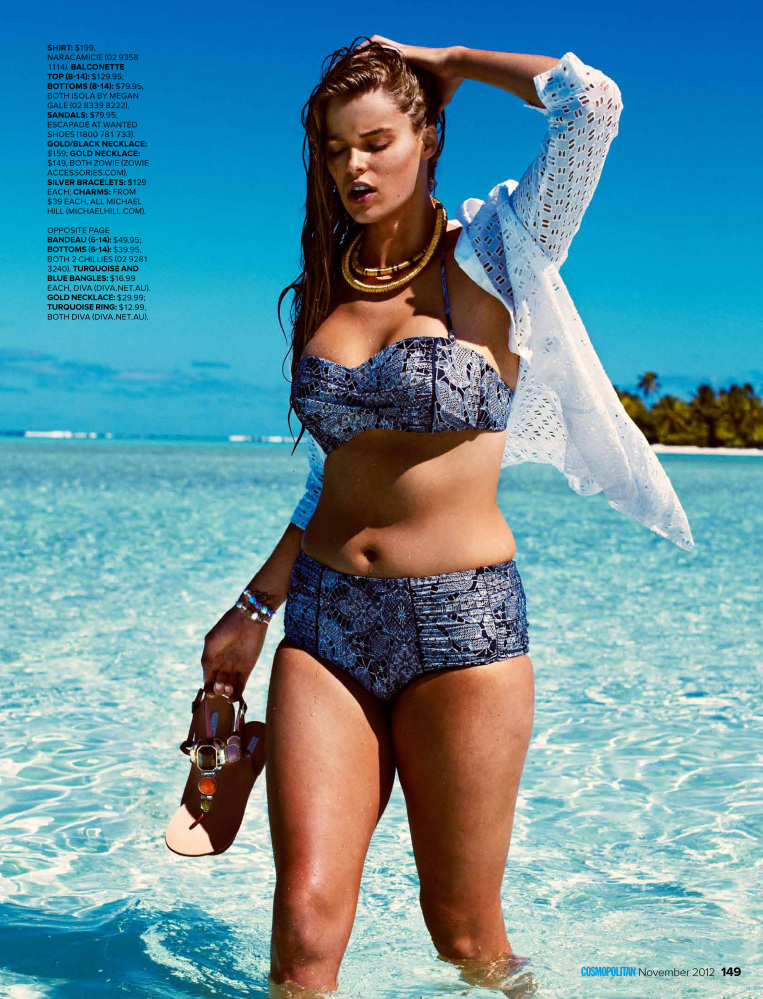 Photography: Steven Chee / DLMStyling: Nicole AdolpheHair and Make-Up: Rachael Brook / DLMModel: Robyn Lawley / Bella models
Lazere, Donald. Reading and Writing for Civic Literacy. Brief Ed. Boulder: Paradigm Publishing, 2009. Print
Rebecca, Adams. "Robyn Lawley Poses In Sexy Bikinis For Cosmopolitan Australia ." Huffington Post 9 10 2012, n. pag. Web. 9 Oct. 2012.
Tiffany, O'Callaghan. "As early as age 10, kids feel pressure to have a "perfect body Read more: http://healthland.time.com/2009/08/27/as-early-as-age-10-kids-feel-pressure-to-have-a-perfect-body/